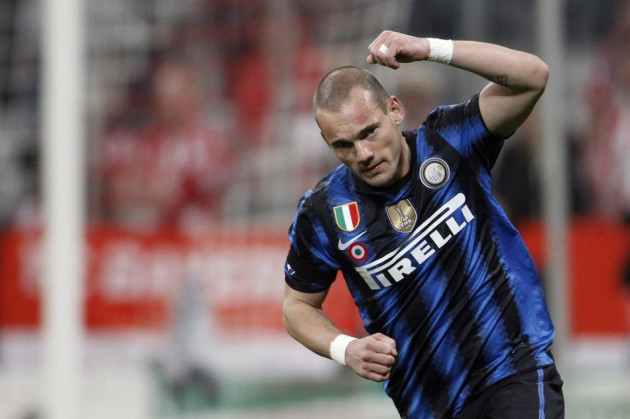 Click here for a full review of today's football transfer rumours
Wesley Sneijder remains Manchester United's primary summer transfer target, despite Sir Alex Ferguson denying the club have any interest in the Dutch international.
The Inter Milan playmaker has been widely linked with a move to Old Trafford for weeks and was believed to be Ferguson's preferred choice to replace Paul Scholes following his retirement.
Speaking during United's U.S. tour, Ferguson refused to be drawn on the possibility of tempting Sneijder from Milan but the Telegraph reports that the 27-year-old remains United's priority target.
"There is nothing on the horizon with that, so we just carry on with the players that we have," he said. "Everybody is searching for the special player who makes the difference to his team, but we have-more-than capable midfield players, so we will carry on."
However, when questioned directly about United's pursuit of the former Real Madrid player Ferguson was particularly frank.
"Forget it," he said. "We are looking at some things but I am not so sure Sneijder will be easy to get."
Bayern Munich midfielder Bastian Schweinsteiger and Valencia's Juan Mata have also been linked with the club but Ferguson revealed he would be comfortable starting the season without any additions to the current squad.
"I would be happy enough," he said. "Maybe I am a bit overloaded in the strikers' positions. The alternatives in midfield are not nearly as strong. But I have a good squad."
I could pick three or four players to come in but they wouldn't be good enough for us so there is no point."
Meanwhile, Ferguson believes Liverpool are now "back on the radar" after two seasons of underachievement.
"Liverpool went off the radar for a bit. They are now back on it," he told The Guardian. "Long-term, you know they are going to be there."