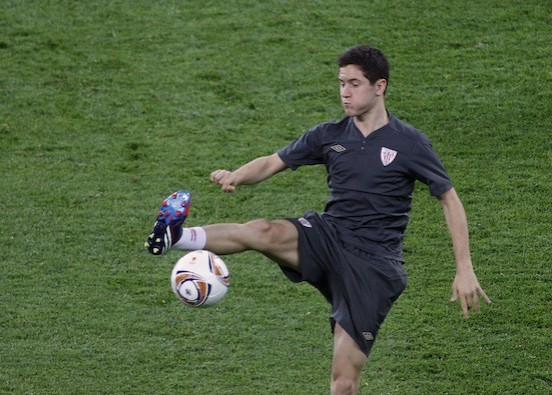 Ander Herrera has admitted that he dived in a match against Getafe and has apologised to the referee in a move that is sure to further endear himself to Manchester United supporters.
The Athletic Bilbao midfielder was the subject of a bid from United over the course of the summer but a deal could not be agreed before the transfer windoe slammed shut.
Herrera has continued to excel for Bilbao but last weekend appeared to go down easily in the penalty area as the side sat with a slightly uncomfortable 1-0 lead over Getafe in the final minutes of their league encounter.
But after the match the 24 year old admitted his fault and offered an apology to the referee as many in the industry claim to be becoming more frustrated by players trying to simulate fouls.
"Sometimes we complain about the referees, but today I must apologise because I tried to con him," Herrera told reporters. "I am happy that he did not award a penalty, as I would have left a liar and I do not want to be one. I was wrong.
"I thought we could secure the game then, but above everything else there must be sportsmanship."
The comments paint a picture of a player hoping to keep his dignity, a feeling that many Bilbao fans have already appreciated when he insisted at the end of the summer transfer window that he never entertained interest from United.
The Red Devils are expected to come back in for Herrera in the January transfer window after they failed to agree a fee for his sale in the summer but Herrera has continuously insisted that he wants to show his commitment to his home town club of Bilbao and will only move to United if the terms are beneficial for the club.
Moyes is certainly likely to have appreciated the comment from the Spain Under 23 international's, with the United manager a long standing opposer to players diving in the Premier League.
Moyes recently told reporters on the subject: 'I've always said I don't like diving. I don't want any of my players diving, I don't want anybody doing it."
He also publicly chastised Ashley Young for his reputation for diving, insisting he would speak to the United winger about trying to draw fouls in the penalty area without contact from the opposition.