At a luxury hotel in Phuket, Roger Bullman choked British citizen Amitpal Singh Bajaj to death in front of Bajaj's wife and child. Bullman was arrested for the murder but was set free on bail. Having missed his court date, the Norwegian remained untraceable. Thailand police has since launched a manhunt to find the absconding criminal and put him behind bars.
On August 21, Bajaj and his family had been trying to get some sleep while Bullman was loudly partying in the adjacent room. Bajaj called the Phuket hotel front desk to report the disturbance. Even after being told to reduce the noise twice by the hotel management, Bullman continued to be loud. Bajaj finally went and confronted the Norwegian, which did not go well as the two men ended up having a verbal battle.
After Bajaj returned to his room, Bullman climbed from his balcony to the balcony of Bajaj's room where he proceeded to assault Bajaj. Bajaj stabbed Bullman with a steak knife before being put in a chokehold which eventually killed him. Bajaj's wife and nearly two-year-old son witnessed the attack before the woman ran away out of fear for their lives. By the time the wife returned with hotel security, Bajaj was dead.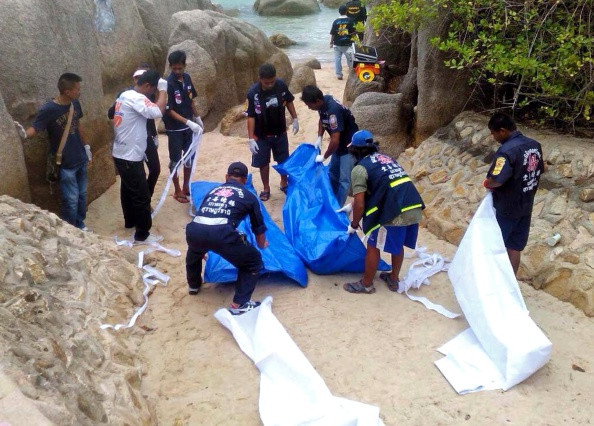 Within hours of the attack, Bullman was released on bail by the Thai police. He was supposed to turn up for a court hearing which he failed to show up to. Pictures and videos shared by The Daily Mail showed that the remorseless murderer continued to enjoy his holiday in Phuket after committing the murder.
However, since failing to appear in court, Bullman has gone missing. The Bajaj family had shared their fears of Bullman escaping without facing any punishment. Their fears seem to have become a reality as Bullman's lawyer, Sulman Hussain, has not been able to contact him since Monday. Hussain claimed that Bullman might have skipped appearing in court out of fear. Since he has become untraceable, the police has launched a manhunt.
The police officer leading the investigation, Major Techin Deethongon, insists that Bullman must be in Phuket. The police have his passport so he will not be able to leave the country. Border police at the Cambodian border has been alerted and police check-posts have been set up surrounding Phuket.
Bajaj had been celebrating his 10<sup>th wedding anniversary when the tragedy occurred. His family back in Southall, London, is appalled by the inaction of the Thai police which led to Bullman's escape. They hope that pressure from the British consulate will force the Thai authorities to take sufficient measure to find and punish Bullman.