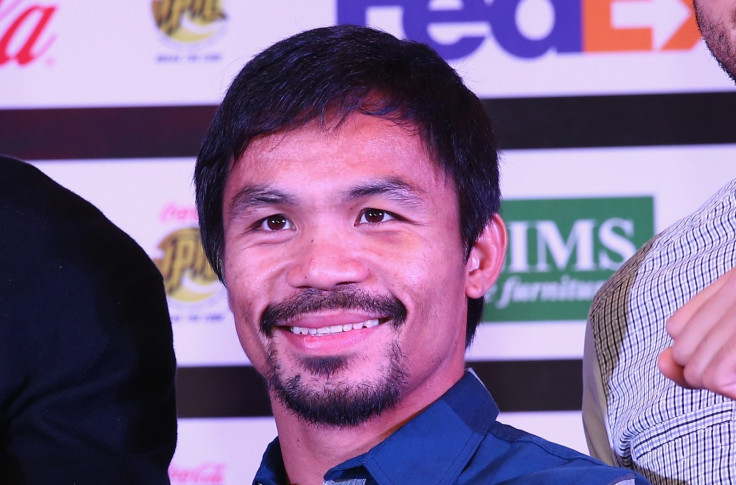 Manny Pacquiao claims a deal to fight Floyd Mayweather Jr on 2 May has been agreed and an announcement could be made regarding the bout before the end of the month.
Pacquiao and Mayweather have been at loggerheads in recent years regarding a potential fight, with the unbeaten American continually dodging a meeting with the Filipino after demanding he undergo an Olympic-style drug testing programme.
However, talks have begun between Pacquiao's Top Rank Boxing and Mayweather Promotions regarding a fight in May and the 36-year-old southpaw says an agreement has been clinched.
"We will make an announcement before the end of the month," he told Manila Standard Today. "I think it [the fight] will happen. [It will happen on 2 May] because that's what he [Mayweather] wants."
Confirmation of the deal would bring an end to years of speculation regarding a potential fight between the pair and would represent the first of Mayweather's final two career bouts after stating he plans to retire after 2015.
Mayweather, 37, is yet to produce a customary response via social media, which he has used to taunt Pacquiao with throughout the years of negotiations between the pair.
Any arrangement between Pacquiao and Mayweather for the fight in May would all but end Amir Khan's hopes of facing the pair during 2015.
Both fighters are expected to compete in the months of May and September and while Khan would be available for the Spring date, preparation for a bout later in the year would conflict with Ramadan – the Islamic fasting period during June and July.
In a hope of salvaging a fight with Mayweather during his preferred May date, Khan has set Mayweather a deadline of the end of the week to agree to a fight or risk missing out on a meeting with the British fighter.
"I want to fight in May and I want the Mayweather fight but it's not getting any closer," Khan admitted to the Daily Mail.
"I've answered all the things Mayweather wanted me to do. He wanted me to fight at welterweight, I did that; he wanted to do a vote [to see who he would fight], I won the vote; he wanted me to beat a top guy in the division and I gave Devon Alexander a beating he'd never had before.
"There is a lot of money in a fight with me, not just in America, but he's trying to avoid me. He's avoiding two names in boxing, Manny Pacquiao and Amir Khan.
"Mayweather wants to keep his '0', he doesn't want to take the big fights. If he's not fighting the top guys but is fighting guys who are over the hill or not at their peak, he's going to be undefeated.
"One thing about me is I've fought guys at their peak and who have been dangerous. I didn't have to fight them but I did. Losing doesn't make you a bad fighter, losing shows how good you are if you come back from those losses.
"It's a waiting game, I've given his team five days. I need to know this week because I need to start training."