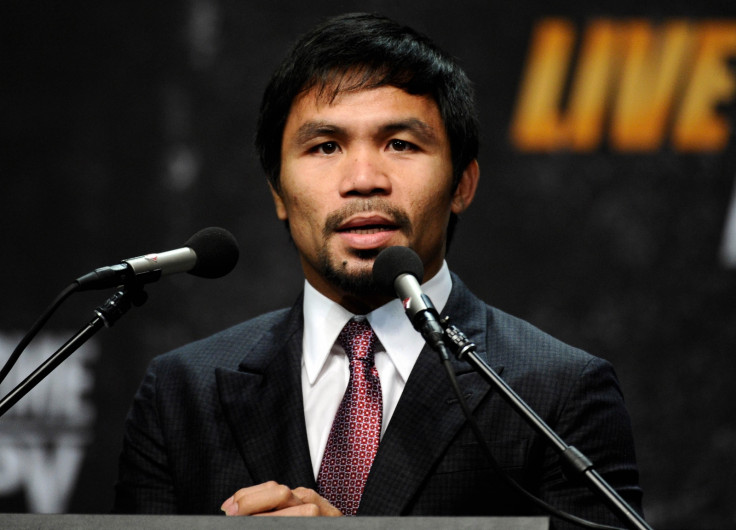 Manny Pacquiao believes he has found a number of cracks in Floyd Mayweather's defence ahead of their Las Vegas showdown on 2 May.
WBO welterweight champion Pacquiao and his trainer Freddie Roach are preparing for the title unification bout with WBC and WBA champion Mayweather in California.
The Filipino fighter's hopes of securing victory at the MGM Grand rest on finding a way through his opponent's watertight defence that has been the bedrock of his flawless fight record of 47-0.
But while he has not let any details slip, Pacquiao insists he and Roach have discovered a number of chinks in the unbeaten American's armour.
"It is defence he will be relying on when we face each other, I can say this early that I am ready to meet him in that department," he told Phil Boxing.
"We've actually been figuring out how we can penetrate the defensive blanket that Floyd will throw at me since we opening camp in General Santos two or three weeks ago. I think we already have an idea of what offensive manoeuvres we will utilise.
"As I have been saying since we opened camp, we will be concentrating on finding the flaws in his defence. I think we have discovered a lot."
Earlier this week, Mayweather made the bold prediction that he would knock Pacquiao out within five rounds. The 37-year-old pointed to the Filipino's sixth round to defeat to Juan Manuel Marquez in 2012 as all the proof he needed, having beaten the Mexican himself three years earlier.
But Pacquiao's trainer Roach believes his fighter has the greater hunger ahead of the fight and is working specifically on delivering what would be the 38th knockout of his career to win in May.
"We will make him to be as competitive as we would want him to be to achieve our target of winning by knockout," Roach said.
"We have to win this fight because if we fail, the entire world will be very disappointed. Manny knows that very well, that is why he really is dipping his head and his whole body to training regime he himself and the training team have charted.
"I can see it in his eyes, in his body movement, his attitude in training that he really wants to win and win decisively. Sometimes, I cannot help but think he's mad at this guy [Mayweather]."