Marathon runner 'joggles' through entire 42km race without dropping a ball once
Michael Kapral has made it into the Guinness Book of World Records for 'joggling'.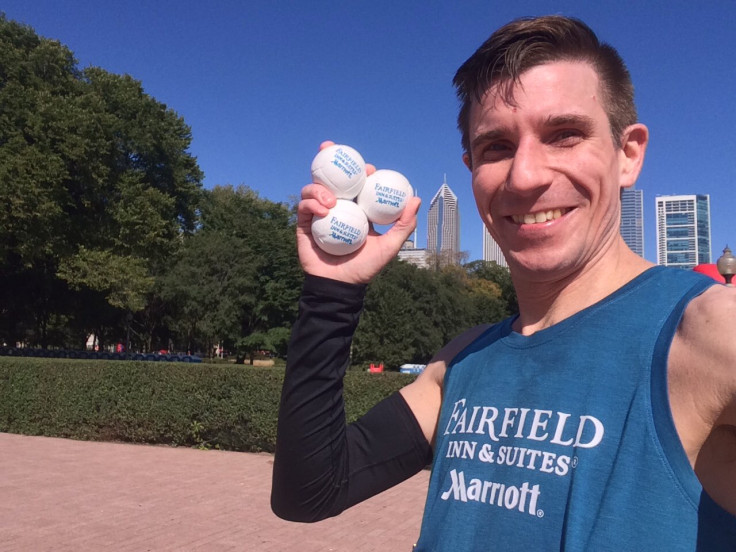 A Canadian man ran the Chicago Marathon on 9 October – while juggling three balls the entire time. Michael Kapral managed to pull off the stunt without dropping the balls once, completing the marathon in 2 hours and 55 minutes.
The 44-year-old had already secured a place in Guinness World Records as the world's fastest marathon joggling (jogging while juggling) male. He previously ran 42km while juggling three objects in September 2007 at 2 hours and 50 minutes, although he dropped the ball twice while doing it that time.
Kapral's Chicago Marathon in 2016 was his eighth joggling marathon, NPR reported. This was the first time he had done the race without dropping his juggling objects and spoke about the pressure he felt while doing it.
"I've never felt so much stress in my life," the joggler said.
He first began joggling when he was only 11 years old – after he had just learned how to juggle. At the time, the Toronto-based runner was also a part of his school's cross country team and thought he would combine the two and try to break a Guinness record.
Karpal said: "When I first started I just assumed people would make fun of me and I started off training in the dark before dawn while I figured out what I was doing. I think the most common reaction is people stop and just stare. They just stop in their tracks and then their jaws kind of drops, and they get the look of like, 'What did I just see?' It cracks me up."
Many have since taken to Twitter to comment on the stunt in amazement, admitting their own clumsiness. Karpal himself has joined in the conversation.
© Copyright IBTimes 2023. All rights reserved.