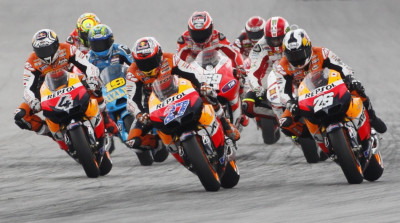 Sunday's Malaysian MotoGP was abandoned after Marco Simoncelli was killed in a crash at the Sepang circuit.
The Italian rider died when he lost control of his bike on the second lap and veered across the track at turn 11, into the path of Colin Edwards and Valentino Rossi.
The 24-year-old was hit by Edwards and then Rossi as he slid across the track. His helmet was knocked off in the collision and he was taken to the medical centre but died from "serious trauma" to the head, neck and chest.
Simoncelli's death comes exactly a week after British driver Dan Wheldon was killed in a 15-car pile-up at the Las Vegas Motor Speedway.
Sunday's race was cancelled as soon as the extent of Simoncelli's injuries became clear.
"On Sunday 23rd October, during the MotoGP race at the Shell Advance Malaysian Motorcycle Grand Prix at the Sepang International Circuit, San Carlo Honda Gresini's Italian rider Marco Simoncelli suffered a serious accident in which he received critical injuries," a statement on the MotoGP official website read.
"The race was stopped immediately with the red flag and Simoncelli was transported by ambulance to the circuit medical centre where the medical staff worked to resuscitate him. Despite their efforts, Marco sadly succumbed to his injuries at 4:56pm local time.
"Everybody involved in MotoGP extends its deepest condolences to Marco's family, friends and team at this tragic loss."
Simoncelli made his MotoGP debut in 2010 after he won the 250cc world championship in 2008.