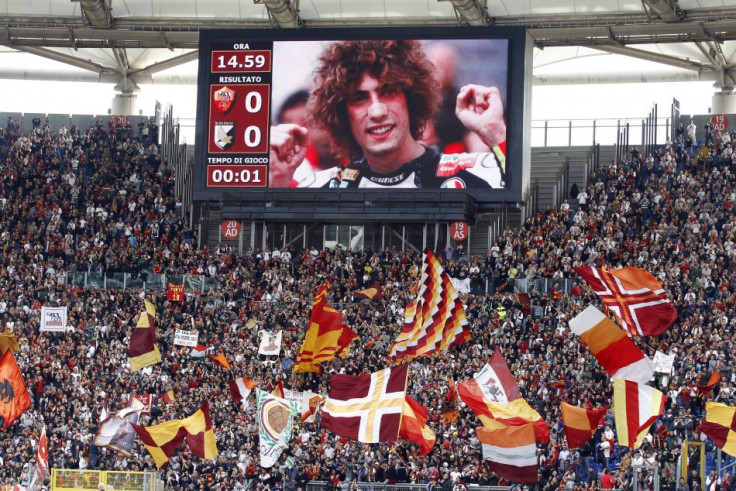 The funeral service for Italian motorcycle racer Marco Simoncelli will be held on Thursday, at the Church of Santa Maria di Coriano. The service will begin at 3 p.m., after which Simoncelli, 24, will be buried in a cemetery near Riccione, where he was born, according to MotoGP.
According to reports from Agence France-Presse, the funeral will be a private affair, with only family, friends and fellow professionals. Fans are being asked to stay off the roads, as authorities believe the town will not be able to cope with large number of mourners.
Simoncelli was killed in a crash at the Malaysian Moto GP on Sunday. He lost control of his bike on the second lap of the race at the Sepang International Circuit and was hit by Colin Edwards and then Valentino Rossi as he slid across the track. The helpless Simoncelli crashed into the oncoming front tires of racers Edwards and Rossi and his helmet came off in the collision. He was immediately taken by ambulance to the circuit's medical centre but at 16:56 local time it was announced that he had died from his injuries.
Later, at a press conference involving members of the MotoGP Race Direction team, Medical Director Michele Macchiagodena said that Simoncelli sustained "a very serious trauma to the head, to the neck and the chest" and was administered cardiopulmonary resuscitation for 45 minutes.
Simoncelli's father Paolo and fellow rider Valentino Rossi accompanied the body of the MotoGP rider as it arrived back to Italy on Tuesday. Over 50,000 fans are expected to line the streets of Coriano to pay their final respects to Marco Simoncelli.
Check out the video below.