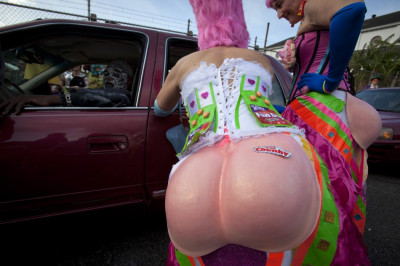 Party-goers have flocked in their hundreds of thousands to the streets of New Orleans to celebrate Mardi Gras, lured to the French Quarter by the chance to snag beads and watch the parades.
The celebrations kicked off on "Fat Tuesday", which marks the beginning of Lent.
Hundreds of floats paraded by as revellers in outrageous costumes watched and danced.
The stakeout for prime spots along the Mardi Gras parade route started a day earlier, with legions of carnival diehards jockeying for the best places to vie for beads thrown from floats.
Parading and street revelry eventually gives way to the more elegant side of Mardi Gras with lavish private balls.
Rio Carnival 2012: Brazilian Beauties on Parade [SLIDESHOW]
Rio de Janeiro Carnival 2012: Beauty and the Beast [SLIDESHOW]
Rio de Janeiro Carnival 2012 is Biggest and Best [SLIDESHOW]
Trinidad Carnival 2012: Caribbean's Biggest Party [SLIDESHOW]