Author Marian Keyes spoke of her pain after using a "dodgy" anaesthetic cream following an extremely painful laser hair removal procedure.
Speaking at the Oxford Literary Festival on 10 April, the 52-year-old, Anybody Out There novelist revealed how she purchased a local anaesthetic cream from a "dodgy" website.
IBTimes UK consulted Dr Firas Al-Niaimi, a dermatologist at skin clinic Sk:n to ask if laser hair removal should ever be this distressing.
Keyes said: "I used to have the hairiest legs in Ireland and as a feminist it shouldn't matter but it does. I was getting my legs waxed month in and month out but [the hair] always grew back."
After deciding to undergo laser hair removal, a non-surgical procedure that uses a concentrated beam of light to be absorbed by the pigment and damages the follicle enough to halt growth, the author was left in horrendous pain.
Dr Al-Niaimi told IBTimes UK that the degree of pain or discomfort experienced with laser hair removal depends on a number of factors. "While pain is a subjective matter, its threshold varies from person to person and there are some factors that could influence it," he said.
"If the hair is dense and coarse then some may experience more pain compared to finer thinner hairs. Certain anatomic sites such as the groin and upper lip can be particularly sensitive in women, and backs can be painful in men, due to the thickness of hairs.
"Higher intensity and energy levels (often used after several treatments) are more associated with pain compared to lower intensities."
However, he aadded, "Cooling can help to diminish the pain and some laser machines tend to be more painful compared to others." In any case, one should never apply aesthetic cream to the area like Marian Keyes did, and always consult a professional.
After purchasing the cream, Keyes smothered her legs in it before wrapping them in cling film and putting her jeans back on - an action with potentially dangerous results. Despite being aware of the possibly fatal after-effects of her act, she remembers only caring about ridding herself of the pain.
Keyes described how she then went a caught a flight in this state, which she describes as having" felt amazing", but was in fact extremely dangerous.
"So after I put the cream on I felt no pain and it was really lovely. But whatever was in the cream had obviously gone into my bloodstream because I was the happiest I've ever been in my life. "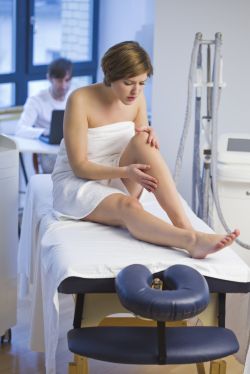 However, in hindsight, although Keyes said that she was experiencing "euphoric recall" when retelling her story, she advised others to never follow her lead. "Just take two Solpadeine [a painkiller] before and don't be going anywhere near the dodgy cream."
Laser hair removal has become increasingly popular in recent years. Sk:n showed IBTimes UK how hair removal contributes over 45% of their annual turnover. In the last financial year (2014-2015) this has increased by 2%.
With regards to treatment areas in the same period, Sk:n has seen a rise in the popularity of hair removal for legs, with an increase of over 10%.