Mario Kart 8 Deluxe review: Nintendo takes the best Mario Kart ever and improves it
The 2014 classic gets re-released for Nintendo Switch with a new and improved Battle Mode.
NOTE: This article is a contribution and do not necessarily represent the views of IBTimes.
Mario Kart 8 Deluxe
Platforms: Switch
Developer: Nintendo
Publisher: Nintendo
Release Date: 28 April
Mario Kart is an institution; a legendary multiplayer staple dating back 25 years that is often imitated, but has never been bettered. Nintendo's colourful kart racer has been a favourite on every Nintendo system since its first outing on SNES, and now it's the Switch's turn.
It's one of those precious few series that has reliably entertained generation after generation after generation. It's a timeless local multiplayer classic fondly remembered, whether someone is reminiscing about evenings spent huddled around a tiny TV screen or blowing the dust off for another round years later.
Mario Kart is as dependable a series as there is, but the difference between the series when its rolling in third gear (on Wii and GameCube) and cruising in fifth (on SNES and 3DS) is huge.
Released for Wii U in 2014, Mario Kart 8 was, for many, a high for the series. The platform's commercial failure however, meant its relatively healthy sales were still dwarfed by its console predecessor on Wii, leaving a great many existing fans in the cold. So, on its new Switch console, Nintendo has decided to give it another run.
Mario Kart 8 Deluxe is a bumper port packaged with all the original game's DLC plus new racers, tracks, features and modes. It looks better than ever too, running at a smooth 60 frames per second and at 1080p when the Switch is in TV mode. With 42 playable characters and 48 tracks, this is the biggest Mario Kart ever too. The sheer size of it will put Nintendo in a tricky position when the next Mario Kart game comes around, but fans will be delighted with the wealth of options.
On Wii U, Mario Kart 8 was celebrated as one of the finest entries in the series. Not since Double Dash had Nintendo toyed with its karting formula to such a degree, but unlike the GameCube outing, here it paid off completely. The simple gravity-defying premise inspired some fantastic tracks, which satisfied, at least partly, that burning desire among fans for a new F-Zero.
Electrodome, Cloudtop Cruise and the new Rainbow Road are just a few new tracks that use scale, perspective and a sense of momentum to dazzling effect. Two DLC tracks drawing inspiration from F-Zero itself (the incredible Mute City and Big Blue) also make good use of this. Each of these now ranks among the very best Mario Kart courses, and with so many other contenders from previous games lovingly recreated for the game too, it's easy to compare and contrast.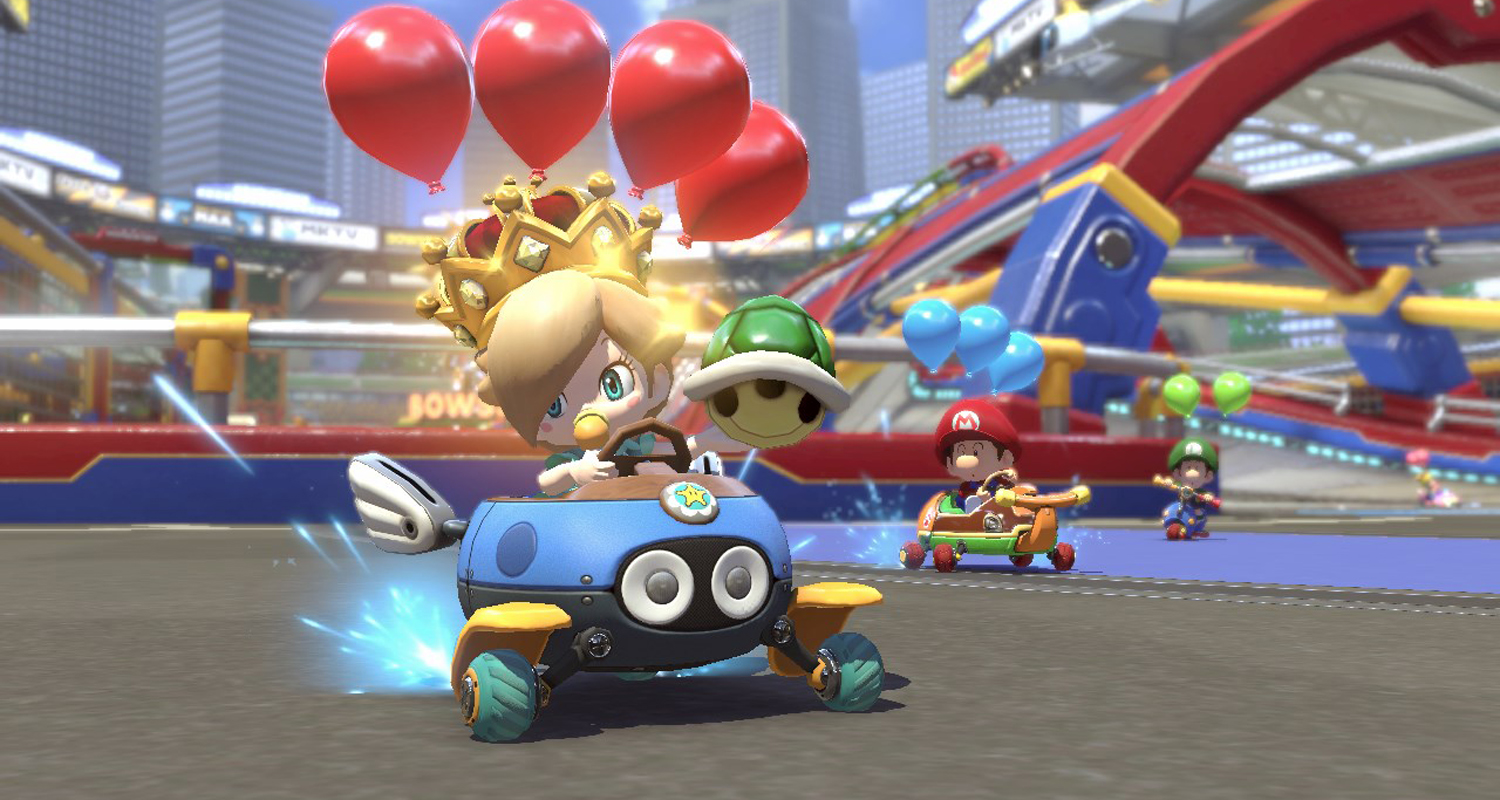 On top of these 48 courses are new arenas for Deluxe's souped-up version of the fan-favourite Battle Mode, which had appeared in every Kart game prior, but was disappointingly bare in the Wii U original. It was limited to one, fairly bland version of Balloon Battle that took place on remixed race courses rather than open arenas, and that was essentially it. Thankfully, Deluxe brings Battle Mode back with eight arenas old, new and designed specifically for its five game types.
Four of these game modes are variations of returning favourites, highlighted by classics Balloon Battle and Bob-omb Blast. There's a depth of customisation too, with options for round-length, team battles or free-for-alls, specific sets of items, CPU difficulty and the types of vehicles permitted. Players can also set the number of rounds (between four and twenty four) and whether arenas are selected by the player or randomly picked.
A new mode, called Renegade Roundup, is Mario Kart's version of cops and robbers. One team hurtles around with piranha plants (wearing cute little sirens) that chomp at criminals who come too close. If chomped, players are sent to a prison hovering over the course, but they can be set free by members of their own team. Each team in the mode scores for capturing or freeing players, and it's every bit as good as it sounds.
As someone who already owned Mario Kart 8 on Wii U, what enticed me most about the prospect of its re-release was the potential for local multiplayer on Switch. Supporting up to four players on one screen or eight through their own locally-connected Switch systems, it's safe to say Mario Kart is an excellent fit for the new machine.
If there was any concern, it was the Joy-Cons and how they'd fare when used as individual controllers, but Mario Kart's simple control scheme maps well to the teeny pads. A stark contrast to games that demand more elaborate control. There was only minimal discomfort after roughly 30 minutes of constant play, but nothing that seriously got in the way enjoyment.
Switch also makes Mario Kart 8 a handheld game of course, and it fits flawlessly. After the excellent Mario Kart 7 on Nintendo 3DS however, that's no real surprise.
Mario Kart 8 Deluxe
(10/10)
Mario Kart 8 Deluxe takes the best game in the series and improves it. It looks better, plays better, the soundtrack remains an utter joy and the inclusion of a fully-featured and fiendishly fun Battle Mode is the cherry on top. This is the best Mario Kart game ever, and it's hard to see exactly how Nintendo will ever be able to improve upon it.
© Copyright IBTimes 2023. All rights reserved.