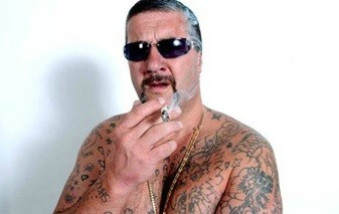 Notorious Australian criminal turned author Mark Brandon "Chopper" Read admitted to four murders - including two unsolved cases - in his final interview before his death.
Read, who died of liver cancer aged 58, spent 23 years of his life in jail for a variety of crimes including assault and armed robbery. However, he was never convicted of killing anybody, despite claiming in his books he could have murdered as many as 19 people.
In his final interview with Australian current affairs programme 60 Minutes, Read confessed to four killings, the first of which occurred when he was 17 in 1971.
"Four is all you're getting, that's it," he said in the interview just 16 days before his death.
"I haven't killed any more than that, and don't try to tell me, don't try to make out that I have."
Read said he was responsible for the unsolved murders of union member Desmond Costello outside a Melbourne hotel in 1971 and Sydney Collins, the former national president of the Outlaws motorcycle gang who has been missing since 2002.
He also said he killed a child murderer in his prison cell whose death was recorded as a suicide and a man known as Sammy the Turk - who Read was acquitted of murdering by a jury after he claimed he shot him in self-defence.
Read described how, at the age of 17, he abducted Costello before killing him with a shotgun and dumping his body.
''He didn't really see it coming. He didn't believe it was going to come - not from me. I was only a young kid,'' Read said.
When asked why he decided to kill the influential union member, he replied he didn't have "the faintest idea", although he added Costello had been had been "insulting" him.
Read said his second murder, of serial paedophile and child killer Reginald Edward Isaacs, occurred during one of his stints in Pentbridge Prison in 1974.
Despite his death recorded as suicide by hanging, Read claimed he killed Isaacs him by jumping "from his bunk onto his head".
''Anyone that would kill a child in such a manner didn't deserve to live," he added.
Read also said he was lucky to have not been convicted of murdering Siam ''Sammy the Turk'' Ozerkam outside a St Kilda nightclub in 1987. The jury believed his claims he shot him in self-defence, which astounded Read.
"Everyone swallowed it. I couldn't understand. When I killed Sammy, that wasn't self-defence. That was outright f*****g murder," he said.
Read said his final murder was that of motorcycle gang boss Collins. He says he did it during an act of revenge after he told the police that Read had shot him in the stomach in 1992 over a money dispute, for which Read spent six years in jail.
He said Collins approached him during one of his public speaking performances in 2002 and asked him to let "bygones be bygones". Read rejected his plea and said he followed him home to shoot him three times, including once with Collins' own gun.
Police confirmed they will be looking into the claims made by Read, who was known to exaggerate the stories which appeared in his books and public appearances.
Victoria Police Assistant Commissioner Steve Fontana said: "We have been in communication with him over a period of time.
"We'll be certainly looking at what he said on the interview last night, but we've got to assess whether he's actually telling the truth, first of all."
Read became infamous worldwide when Eric Bana portrayed him in Chopper, a film about his life, in 2000.