Roger Federer has lost just four times this season in the 48 games he has played, and one of those was in the quarter-finals of the US Open to Juan Martin del Porto. The others were shock losses in the second round of the Dubai Open and Stuttgart Open, and one in the finals of the Montreal Masters when he was carrying a back injury.
Former British tennis player Mark Petchey believes the quarter-final loss at Flushing Meadows was the only match when he did not play well in the big points, which had a major impact on the outcome of the match. Federer lost in four sets to the Argentine, despite being the favourite for the title going into the tournament.
The Swiss ace was carrying a minor back injury ahead of the tournament and there were suggestions that it could have played a part in his early exit. But Petchey, who is now a TV pundit, believes his lack of effectiveness in the big points was the reason for his exit in the last eight stage.
"Yeah one of the rare matches this year he didn't win the big points in the third set," Petchey said, as quoted by the Express. "That was obviously crucial for him in terms of the outcome."
In terms of the quality of titles won it has been one of Federer's best campaigns in almost a decade. He has won two Grand Slam titles — Australian Open and Wimbledon — and three Masters Series events along with an ATP 500 title.
The 36-year-old's latest win was at the Shanghai Masters when he beat world number one and long-time rival Rafael Nadal. The 36-year-old, currently ranked number two, is battling the Spaniard for the year-end number one ranking and is currently playing the Swiss Indoors in Basel to close the gap in the rankings.
Federer is through to the second round in Basel after dispatching Francis Tiafoe 6-1, 6-3 in just over an hour and is now awaiting Benot Paire in the second round. The 19-time men's singles Grand Slam champion served eight aces on his way to victory and did not face a single break point on his serve.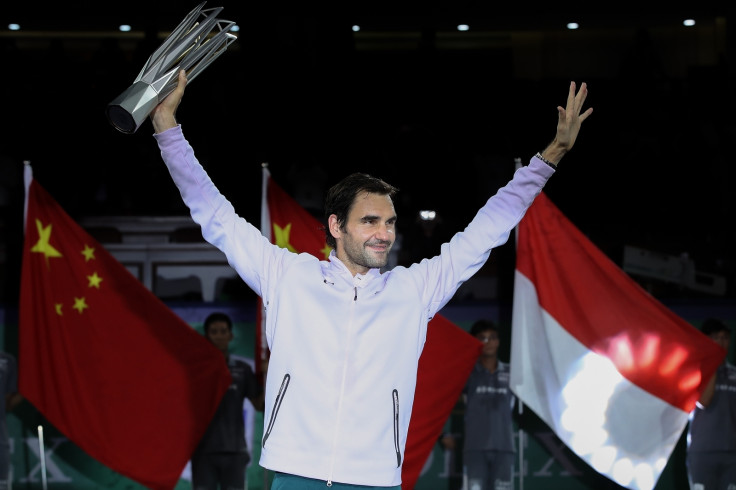 Petchey believes the Swiss star's service in recent weeks has been at its best in his career, which is one of the reasons for his dominance in his matches.
"The serve has been one of the crucial factors to it. His accuracy has been sensational — especially in recent weeks," Petchey told Sky Sports, as quoted by the Express.
"Arguably it's been some of the best serving of his career in terms of how tight to the line he has been."