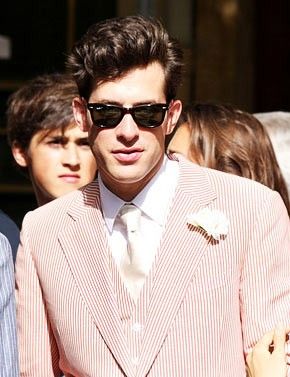 Mark Ronson married Josephine de la Baume in an intimate two day ceremony in France on August 3.
The bride wore designer Zac Posen's custom creation, while Ronson sported a flamboyant pink-striped suit jacket and Ray-Ban sunglasses.
Not following the recent wedding secret trends, Josephine was not shy about announcing her wedding dress designer before the ceremony and told ASOS Magazine: "He offered to do it.
He's an amazing friend and I love his dresses, they're so well fitted. I'm really excited and he's so excited about it" quoted the Mail Online.
Guests who attended the ceremony in Aix en Provence, the South of France, included his sister,DJ Samantha Ronson, her fashion designer twinCharlotte Ronson, model Kate Moss and singerLily Allen.
Brit Award winner Mark, 35, met his 26-year-old French actress and singer bride in 2009 and proposed to her in February of this year, reported the Mail Online.
By Ronson avoiding the traditional black-and-white tux, instead sporting a flamboyant pink-striped suit jacket and Ray-Ban sunglasses and Josephine de la Baume's wearing a low-cut Zac Posen wedding gown and cropped veil the wedding was said to have looked like a catwalk show.
With it being just over a month since Ronson's close friend Amy Winehouse passed away, it was no surprise that in insider shared with US Magazine that Winehouse's absence was felt:
"Amy was a great friend of both Mark and Josephine and they would have been thrilled to have her with them at their big day, but sadly it wasn't to be," says the source. "Amy would definitely have sung one of her hits at the wedding if she were still alive, as she meant to much to both of them. Her death devastated the pair of them."