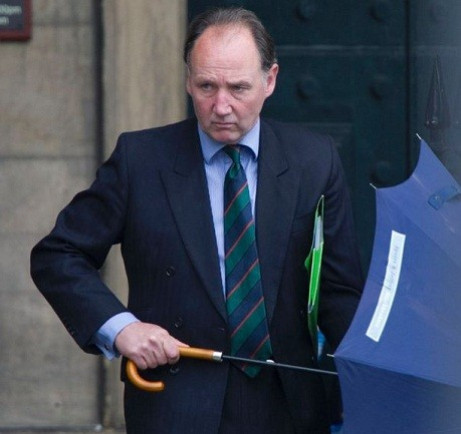 A drunken investment banker was fined £1,000 after bombarding his estranged wife with angry phone calls for days over the Christmas period, at one point telling her "I'll f*****g gas you. I'm Adolf."
Mark Symington, 49, began his foul-mouthed tirade against his wife Sarah on Christmas Eve and continued for three days, including one hour in the middle of the night on Christmas Day when he made 20 abusive calls.
Symington, of Shieldaig, Wester Ross, claimed he made the calls out of frustration at not being able to see his children for more than three years after his marriage collapsed.
The defendant, who once drove his Maserati into a harbour after losing money in the 1987 stock market crash, told his wife: "You think you're clever. F*****g middle-class bollocks.
"You f*****g Jew. You're just a greedy little Jewish princess. You're just a silly little gold-digger."
Symington admitted making offensive calls, aggravated by religious prejudice, and was fined.
Sheriff Lindsay Foulis said: "It defeats me that someone of 49, who appears to have some sort of insight and ability, engages in three nights of what can only be described as an unpleasant tirade against an estranged spouse.
"This course of conduct was unpleasant in the extreme. He has had a background in investment and is not an immature teenager."
Fiscal depute Carol Whyte said the calls started on Christmas Eve.
Symington said: "I would like to have some contact with two little people I love. F**k off, you cow.
"Happy f*****g Christmas. I don't know what you feel you have achieved. You can give this to your f*****g scumbag lawyer because I am taking it all the way.
"You are the worst piece of s**t. I'm going to leave messages till you ring back."