Marvel Studios has announced it's full line-up of films from next year's 'Avengers: Age of Ultron' through until 2019.
Ant-Man - 17 July 2015

Captain America 3: Civil War - 29 April 2016

Doctor Strange - 8 July 2016

Guardians of the Galaxy 2 - 5 May 2017

Thor: Ragnorak - 28 July 2017

Black Panther - 3 November 2017

Avengers: Infinity War Part 1 - 4 May 2018

Captain Marvel - 6 July 2018

Inhumans - 2 November 2018

Avengers: Infinity War Part 2: 3 May 2019
At a special fan and press event held in Los Angeles Marvel Studios announced the release dates, titles and existence of nine films, including two new Avengers films that will adapt the Infinity Gauntlet story.
Among the new recruits joining Iron Man, Captain America and Thor are Black Panther and Captain Marvel, the first big screen black and female superheroes of the Marvel series, as well as an adaptation of the Inhumans comic.
These are joined by the well-publicised Doctor Strange movie, as well as Captain America: Civil War and Thor: Ragnorak, the sequels to series starring those two Avengers.
Guardians of the Galaxy 2 was also pushed forward from its original July 2017 date to May.
Chadwick Boseman was also announced as the man to play Black Panther and Captain Marvel was confirmed to be the female version of the character, the as-of-yet uncast Carol Danvers.
The huge event also involved a cruel joke played by Marvel when they announced that Captain America 3 would be subtitled Serpent Society (a reference to a real storyline) before revealing it will actually be called Civil War - which is in line with recent stories that Robert Downey Jr would be appearing as Iron Man.
The biggest news however is that of Avengers: Infinity War Part 1 and Part 2, which will adapt the Infinity Gauntlet story that has been set up since the end of 2012's Avengers Assemble. It will star Thanos (Josh Brolin) as the meglomaniacal titan hell bent on acquiring the power to control reality itself.
Footage of Thanos wielding the gauntlet was also shown...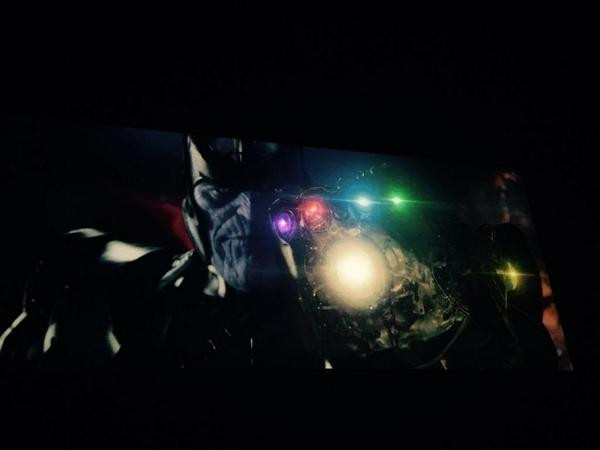 The Avengers two-parter was described by studio president Kevin Feige as the "culmination" of their entire filmography to date, starting with 2008's Iron Man.