A Missouri teenager cleared of raping a 14-year-old girl could face fresh charges after the case sparked a public outcry.
Nodaway County prosecutor Robert Rice confirmed he will ask a judge to appoint a special prosecutor to examine the case after facing huge criticism over his handling of the original investigation.
In January 2012, Daisy Coleman, from the town of Maryville, reported that she had been raped by a 17-year-old Mathew Barnett after he had plied her and her friend with alcohol at a party. She was later dumped on the front lawn of her house in freezing temperatures and left for several hours.
Barnett admitted to having sex with Daisy while intoxicated but insisted it was consensual. His friend Jordan Zech is also alleged to have filmed the entire incident on his phone.
Following a police investigation, Barnett was charged with sexual assault and endangering the welfare of a child and Zech with sexual exploitation. A 15-year-old also admitted having non-consensual sex with Daisy's 13-year-old friend on the same night and served time in juvenile detention.
However all charges against Barnett and Zech were later dropped. Rice says the reason for this was because the case collapsed after Daisy and her mother refused to testify in the case.
The alleged incident gained international attention after a report by the Kansas City Star, which detailed the charges being dropped and how Daisy and her family were forced to leave Maryville after the town turned against them following the allegations.
Hacktavist group Anonymous also threatened to get involved if no one is prosecuted in the case. This lead to comparisons with the 2012 rape in Steubenville in which two high school footballers were eventually convicted of raping an inebriated girl at a party.
Like Steubenville, there have been claims of a cover-up in the alleged Maryville rape, with Barnett being the grandson of once-prominent Nodaway County politician Rex Barnett.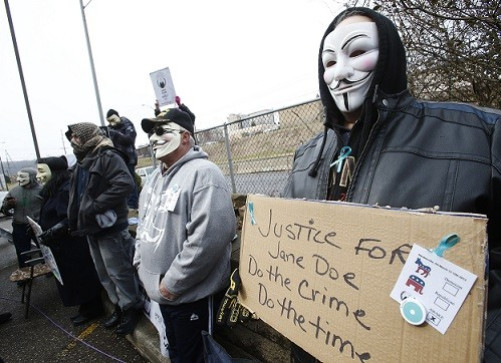 Daisy waived the anonymity usually given to alleged rape victims to help bring her case to wider attention.
Rice has now confirmed the case will be reviewed, but criticised the Kansas Star report for suggesting there was a political influence on his decision to drop the charges.
"My name was dragged through the mud in that article and I don't appreciate it," he said. "I've spent my entire life trying to work as hard as I can to do the right thing all the time and then someone can throw out a couple of baseless rumours that makes everybody think that I'm a crook."
Rice said the Colemans' refusal to testify was taken under oath with a court reporter and that he made it clear this would result in the case being thrown out.
Rice said because of this there was insufficient evidence to prove a criminal charge beyond a reasonable doubt.
He added: "The State's witnesses refused to cooperate and invoked their Fifth Amendment privilege to not testify.
"What I assure you is this. Their cooperation was not there."
Daisy's mother, Melinda, denies she and her daughter were uncooperative.
Mrs Coleman says they only refused to testify after the felony charges were dropped and only Barnett's misdemeanour charge of endangering the welfare of a child remained.
She says she didn't want to put her daughter through the anguish of reliving the incident with only a misdemeanour charge at stake.
Maryville City Manager Greg McDaniel said: "This was an unfortunate incident that cast a shadow over our community.
"With an independent review of the facts, we can hopefully find some resolution to the case that will allow for the healing of all parties involved."