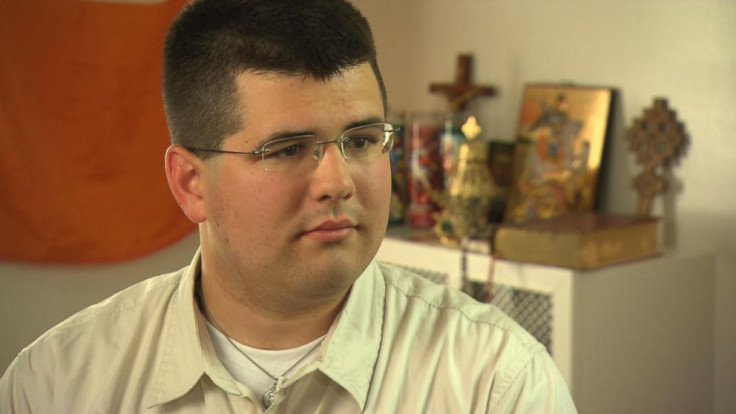 Home secretary Theresa May has banned a US white nationalist notorious for his homophobic, segregationist and anti-Semitic views from the UK.
Matthew Heimbach has been described as "the face of a new generation of white nationalists" by the Southern Poverty Law Centre. In public statements he has labelled homosexuals "degenerate", called Jews a "truly Satanic enemy" and advocated "creating a new homeland for whites around the entire world".
Heimbach posted his banning letter on Twitter under the hashtag #EnglandYoureDrunk, writing "I am now banned from England for being a nationalist while 10ks of radical Muslims are welcomed".
The letter says: "After careful consideration, on 30 October 2015, [May] personally directed that you should be excluded from the UK on the grounds that your presence here would not be conducive to the public good.
"The home secretary has reached this decision because you have brought yourself within the scope of the list of unacceptable behaviour by making statements that may foster hatred which might lead to inter-community violence in the UK."
It notes that Heimbach is "a southern nationalist and that you [Heimbach] advocate for racial segregation in the US", and has expressed "anti-Semitic and Neo-Nazi" views.
While a student at Towson University, Maryland, Heimbach created a white nationalist society, and designed a campus patrol to combat what he described as a "black crime wave".
In a Vice documentary, he advocated the creation of a white-only state: "If you want to sell yourself and your children down the river of multiculturalism, you can do that. But we deserve the right to exist." At a rally organised by the Aryan Terror Brigade, Imperial Klans of America and National Socialist Movement in Kansas City, he was photographed performing a salute under a swastika.
Matthew Collins, of anti-extremism campaign Hope Not Hate, told The Guardian Heimbach had been set to meet several far-right activists in the UK at a private lunch in Southport.
"We are conscious that there is a concerted effort by some people to build a new far-right movement directing their hatred back towards the Jewish community," Collins said.
"His presence would have been seen as some kind of moral victory by such people. We ask the government to remain ever-vigilant."
In 2013 activists Pamela Gellar and Robert Spencer, who co-founded an anti-Islam group, were banned from entering the UK, where they were due to address a rally in Woolwich, the site of the murder of Drummer Lee Rigby by Islamic extremists.
A Home Office spokesman said: "The home secretary has the power to exclude an individual if she considers that his or her presence in the UK is not conducive to the public good or if their exclusion is justified on public policy grounds.
"Coming to the UK is a privilege and one that we refuse to extend to those who seek to subvert the shared values of our society.
"This home secretary has excluded more foreign nationals on the grounds of unacceptable behaviour than any before her."