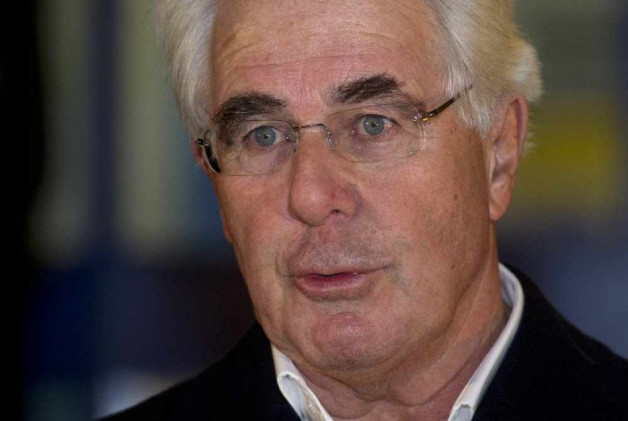 Publicist Max Clifford has dismissed the 11 sexual assault charges against him as "completely false" and "a load of nonsense" as he vowed to clear his name in court.
The 70-year-old PR guru will stand trial in May over historic allegations of sexual offences against teenage girls as young as 14. He faces up to 10 years in prison if found guilty.
Speaking outside his Surrey home on Saturday, Clifford said he was "living a 24/7 nightmare", and added: "The allegations in respect of which I have been charged are completely false, very upsetting, very distressing, but completely false.
"I have made it clear to the police during probably around 25 hours of interviews since last December when I was initially arrested, that there's absolutely no truth and substance in any of these allegations."
"Nevertheless a decision has been taken to charge me with 11 offences involving seven women, the most recent of which is 28 years ago and the oldest 47 years ago.
"I am naturally disappointed. However, at least I will now be in a position to fully consider all the evidence against me and to answer the evidence in public and ultimately clear my name in a court of law.
"I have never indecently assaulted anyone in my life and this will become clear during the course of the proceedings. Since last December I have been living a 24/7 nightmare. A black cloud has been placed over me, obliterating the bright blue skies that I have been fortunate to live my life under for the vast majority of the past 70 years.
"Fortunately I have and continue to receive wonderful support and understanding from those who knew me, those who know me, as well as people I meet everywhere I go."
He thanked his celebrity clients for their loyalty, saying none had deserted him in the hours since he was charged.
"All of my clients have remained loyal. I'm working with all of my clients on a regular daily basis. I'm used to dealing with dramas, mostly other people's.
"I faced up to what was potentially life-threatening cancer five or six years ago and it was six months before I knew I was going to be OK," he said.
"This is something I've got to face up with and I've got to deal with. If nothing but the truth comes out, I'm going to be absolutely fine.
"Obviously it's been horrible for my wife Jo, my daughter Louise, people close to me. I think people know me for the person I am. They know there's no way I have ever assaulted anyone in my life."
'Historic allegations'
The charges relate to offences allegedly committed between 1966 and 1985 and come as part of Operation Yewtree, the police investigation set up following revelations of sex offences by Jimmy Savile.
Clifford is being investigated under the strand of inquiries unrelated to Savile.
The charges include an indecent assault against a 14-year-old girl in 1966, and indecent assault against an 18-year-old woman in 1974-75, three charges of indecent assault on a 15-year-old girl in 1977-78 and indecent assault against a 19-year-old woman in 1978.
Clifford is also charged with two indecent assaults against a girl, aged 16 or 17, in 1981-82, indecent assault against a 19-year-old woman in 1980-81, and two indecent assaults against an 18-year-old woman in 1984-85.
The Crown Prosecution Service on Friday announced it had recommended Clifford be charged, after his arrest and questioning in December.
Alison Saunders, chief crown prosecutor for the CPS, said: "We have carefully considered the evidence gathered as part of Operation Yewtree in relation to Max Clifford, who was initially arrested on 6 December 2012 over allegations of sexual offences.
"Having completed our review, we have concluded that there is sufficient evidence and it is in the public interest for Mr Clifford to be charged with 11 offences of indecent assault relating to seven complainants.
"We have also decided there is insufficient evidence to authorise charges in relation to three separate allegations. These decisions were taken in accordance with the code for crown prosecutors and our guidance for prosecutors on sexual offences."
The CPS found insufficient evidence to bring charges relating to three other allegations.
Clifford has been a vocal critic of police action in the Savile scandal. Before his arrest he told newspapers that he knew of various stars who feared they could be dragged into the investigation.
'It is a situation which could easily turn into a witch-hunt," he said at the time. "Where is it going to end?" he said.
Clifford's PR company Max Clifford Associates has represented stars including Frank Sinatra and Mohammed Ali, and more recetnly Simon Cowell and Jade Goody. He was renowned over decades for his influence in Fleet Street, and credited as the man behind the Sun's famously surreal headline "Freddie Starr Ate My Hamster".
Eleven men have been arrested and bailed since Operation Yewtree was launched last year, including comedian Starr, who Clifford represented. Others include children's TV presenter Rolf Harris, singer Gary Glitter, comic Jim Davidson and DJ Dave Lee Travis. All deny any wrongdoing.
Clifford will appear at Westminster magistrates court on May 28.