May Day chaos in Seattle as anti-capitalist protests turn into riot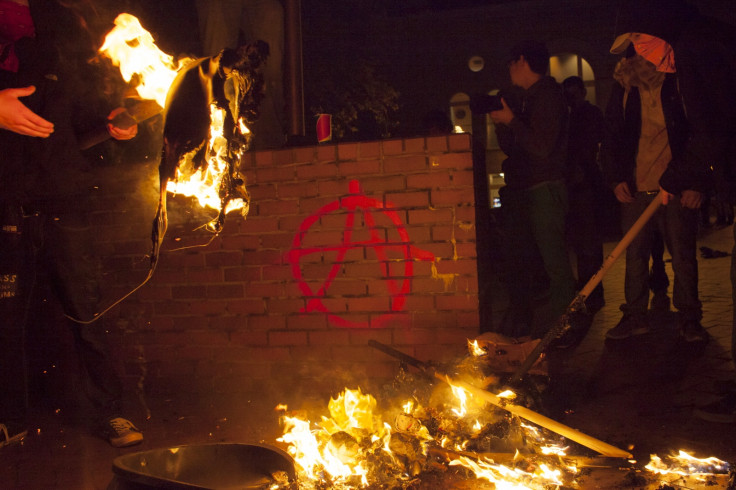 May Day demonstrations in Seattle turned violent after anti-capitalist protesters smashed windows, lit fires and clashed with police officers on Friday (1 May).
The demonstrations in the Washington state city had begun peacefully with protesters marching in support of workers' and immigrants' rights, and in support of the demonstrations in Baltimore over the killing of Freddie Grey, the black man who died in police custody.
"Seattle stands for Baltimore." #MayDaySea @KIRO7Seattle pic.twitter.com/03LI0i8rSn

— AMY CLANCY (@ClancyKIRO7) May 1, 2015
According to the Seattle Police department, the demonstration turned violent at around 7pm (3am BST) as some protestors threw rocks and destroyed property.
"This is no longer demonstration management, this has turned into a riot" -Captain Chris Fowler. #MayDaySea

— Seattle Police Dept. (@SeattlePD) May 2, 2015
The violence was concentrated around the Capitol Hill area of Seattle, where authorities warned residents and businesses of the potential for the protests to turn violent.
The Starbucks in the area had earlier boarded up their roastery in anticipation of violence.
Complete lockdown of the @Starbucks roaster on Pike Street. Just a stunning sight. #MayDaySEA pic.twitter.com/1psnA48f18

— Jon Humbert (@jonhumbert) May 1, 2015
Seattle police reported that 25 cars had been damaged by protesters and that a number stores had their windows smashed and buildings were set on fire.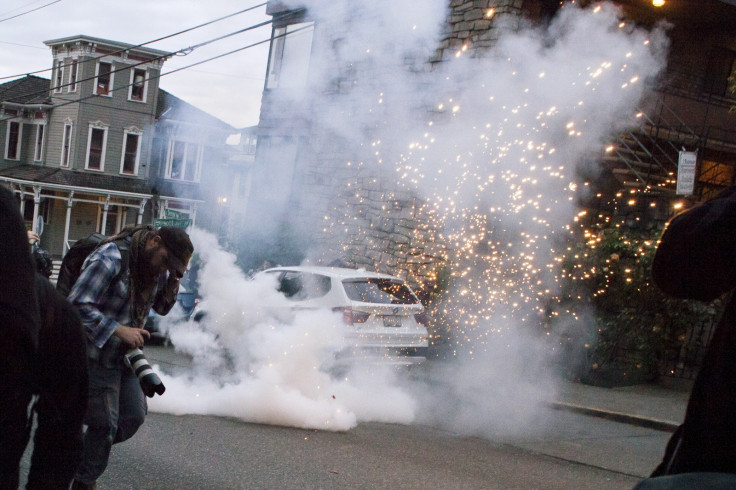 A news release from the Seattle Emergency Operations Center Friday night warned people to "take precautions" in light of the violence.
It said: 'Protesters have been seen throwing bricks, overturning dumpsters, and wielding sticks and other weapons."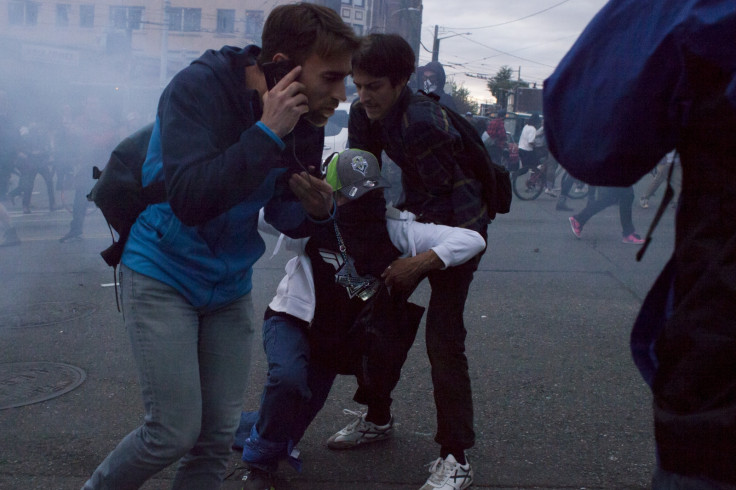 The police posted a number of the items that were taken off protesters on social media.
Items seized from 1 man after #MayDaySea assault arrest: hammer, heavy wood poles, battery, rocks, knife & wrench pic.twitter.com/QLVIWhENMp

— Seattle Police Dept. (@SeattlePD) May 2, 2015
Man arrested @ #MayDaySea for throwing rock at window in 1600 blk Belmont. Found carrying machete, paint & wrench pic.twitter.com/UK7161R3qs

— Seattle Police Dept. (@SeattlePD) May 2, 2015
Seattle Mayor Ed Murray said in a statement: "Tonight we saw assaults on police officers and senseless property damage, which cannot be tolerated.
"Those who are violent will be arrested. We will work to disperse groups that are threatening the safety of our residents and businesses."
According to witnesses at the protest, police used pepper spray, flashbangs and rubber bullets on the demonstrators.
Police deploying pepper spray, flash bangs and rubber bullets at Olive and Melrose #MayDaySea pic.twitter.com/OexTACKgQv

— Bettina Hansen (@bettinahansen) May 2, 2015
Protesters also turned on a man with a rifle and told him not to march with them.
WATCH: Protesters are asking man with rifle to stop marching with them. #MayDaySea #Q13FOX pic.twitter.com/MWJV8hILSb

— Janet Kim (@JanetKimTV) May 2, 2015
May Day, or Labour Day, rallies are staged by left-wing groups and trade unions every year on 1 May. The day commemorates workers' struggle for better conditions in industrialised countries in the 19th century.
© Copyright IBTimes 2023. All rights reserved.