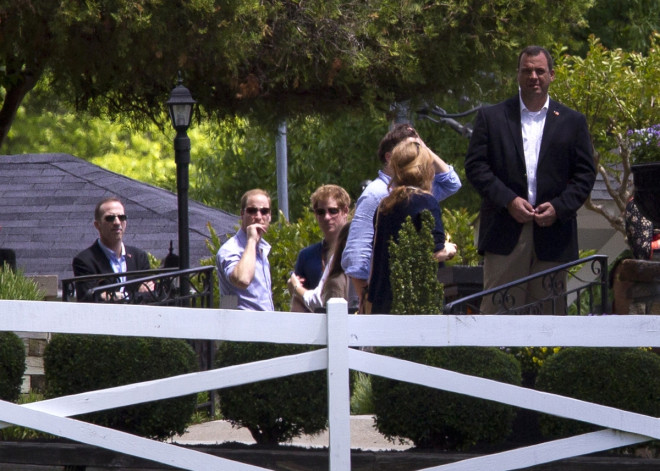 Royal princes William and Harry have been cutting a dash in Memphis, Tennessee, this week ahead of old friend Guy Pelly's wedding. Both royals are expected to be ushers at today's lavish ceremony, which takes place at the Hunt and Polo Club near Elvis Presley's former home Graceland.
William – for once travelling without wife Kate and son George – and Harry, who recently split with girlfriend Cressida Bonas, have known Pelly – a London aristocrat and nightclub owner – for some twenty years, but some royal watchers fear he has been a bad influence on the princes.
Pelly was with Harry when the prince donned a Nazi uniform for a fancy dress party in 2005. He was present when William had a boozy midnight swim in a moat in 2004 and believed to be involved when Harry admitted smoking cannabis in 2002. Earlier this year Pelly appeared in court charged with drink-driving; his solicitor argued the breathalyser was faulty and he was found not guilty.
Palace officials are believed to be worried there may be a repetition of the incident in 2012 where Harry was pictured cavorting naked at a Las Vegas hotel, and have warned both princes to be on their best behaviour, especially as Kate won't be attending for security reasons – even though she and Guy briefly became "drinking buddies" when she temporarily split from William in 2007.
A Palace insider said: "If all three senior royals had gone it would have required a huge security detail flying to Memphis with them. After Australia, Kate's happy to leave William and Harry to it and spend some time at home with George."
With Kate back home minding the baby, William and Harry have been seen at various drinking establishments in both Miami and Memphis.
Awkwardly, Pelly's bride-to-be, the Holiday Inn heiress and former Memphis Queen of Carnival Lizzy Wilson, is also a good friend of Cressida Bonas – who, perhaps fortunately for Harry, agreed not to attend the wedding, and so perhaps giving hope to all those royal-loving Memphis Belles.