Promising cricketer Tom Maynard was high on drugs when he was electrocuted on a live rail track and then hit by a Tube train, Westminster Coroner's Court has heard.
At the inquest into Maynard's death, a pathologist revealed evidence that the rising star regularly took cocaine and MDMA in the 14 weeks before he died at Wimbledon Park Underground Station.
The coroner recorded a verdict of accidental death, having earlier ruled out suicide.
Girlfriend Carly Baker wept in court as she heard how Maynard, 23, was killed after fleeing from police who had pulled him over in his black Mercedes after a car chase in south London last June.
Maynard was on his way to Baker's house when he was pulled over. She told the court that the batsman had called her just hours beforehand, sounding "depressed."
She said: "For me to say 'what's wrong' is quite unusual. It was like he needed me. He said 'you're the only thing that makes me happy' and he said it three times.
"I tried to persuade him not to come because I was so worried that he was getting into the car after drinking."
But Maynard did set out in his car while around four and half times over the drink-drive limit. Forty five minutes after that 3.30am call, police pulled over him for erratic driving near Wimbledon Park station and he fled from them on foot.
Less than an hour later at 5.10am, Maynard's lifeless body was found slumped on the train tracks. He had suffered burns on his lower body before the train hit him.
Experts could not say if he was killed by the electric shock first.
Maynard had been tipped for international honours and was part of England's second team, the Lions, when they toured Bangladesh and Sri Lanka in early 2012.
Maynard's family told of their devastation at his death. A statement read: "The fact that so very many people thought the world of him is what defines him as a person.
"The only people who would judge Tom on the findings of the inquest are people who didn't know him.
"He made choices that night that tragically cost him his life but his devastated family and friends will love and miss him unconditionally, always."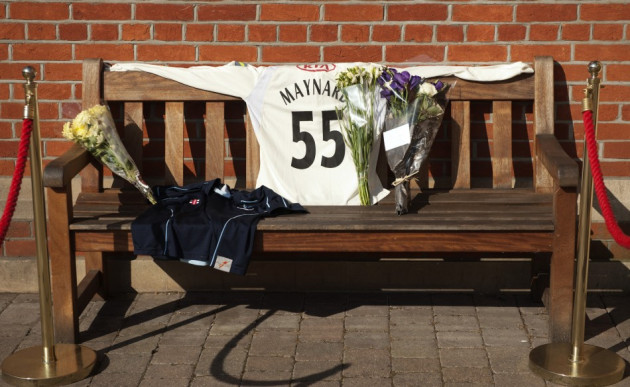 The Professional Cricketers Association said reports of his drug taking compounded the suffering of Maynard's family. It vowed to support relations and professionals affected by the tragedy.
The PCA said: "Amongst the headlines which will inevitably be generated by the inquest findings, consideration must now be given to the Maynard family who are experiencing a further wave of tragedy."
A charity for aspiring professional athletes was founded in honour of Maynard, after his death.
Tom Maynard Trust chairman Martyn Ryan said: "We now hope that all efforts will be placed on remembering Tom as a hugely talented cricketer who spread happiness to everybody who he connected with as a son, brother, grandson or friend. We hope that collectively through the Trust a great number of young people can benefit in his name."
Surrey cricketer Rory Hamilton-Brown was best friends with Maynard at Surrey. He withdrew from the game in the wake of his death, before leaving Surrey to join Sussex.
Supporters of Maynard paid tribute to him as details emerged of his drug taking. England cricketer Luke Wright tweeted: "All people need to know about Tom Maynard is that he was one of the best and kindest people you could ever meet. Miss him! X" It was retweeted on the social network site around 100 times.