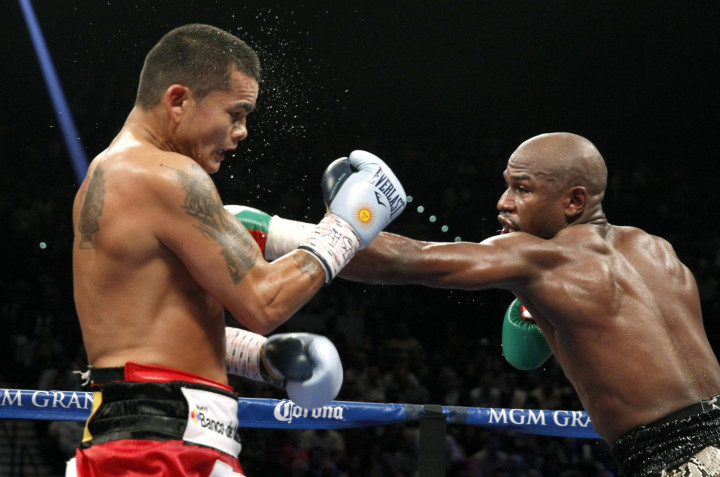 Floyd Mayweather has hinted that he will face Manny Pacquiao in his next fight after the American defeated Marcos Maidana amidst controversy of a possible bite.
Maidana denied the bite took place but replays suggest it was the reason Mayweather finished the fight – and completed his 47th straight victory – with only one good hand.
With Mayweather facing his next opponent in May 2015 it looks likely that it will be Pacquiao after he told reporters: "I'm going to talk to my team and, if the Pacquiao [fight] presents itself, let's make it happen."
Mayweather won the fight over Maidana by unanimous decision with the judges' scorecards reading 115-112, 116-111 and 116-111 at the MCM Grand.
Maidana's protestations over the bite were weak at best, with the Argentine arguing: "He thinks I'm a dog, but I never bit him. I thought I won the fight but, if the judges want to give it to someone who runs, good luck to him. No, no, I didn't bite him. Maybe he put his glove in my mouth."
Mayweather looked to have been bitten by his opponent in the eighth round and referee Kenny Bayless had a stern word with Maidana in the corner before the fight continued.
The Guardian reported the victor saying after the match: "At first I didn't know what had happened but then I realised that he bit me. My fingers went numb after the eighth round. I could only really use the other hand.
"He's a tough opponent. I was sharper in the first fight, much better. I give myself maybe a C, a C-minus. I'm better than that. I got hit with shots I shouldn't have gotten hit with. I'm staying busy. In the past I fought once a year, now it's twice a year, a lot better."
Whether Mayweather will schedule a fight against Imran Kahn, after promising him a meeting last December, remains to be seen.