McDonald's Makeover: Behind the Scenes of a Burger Photoshoot [VIDEO]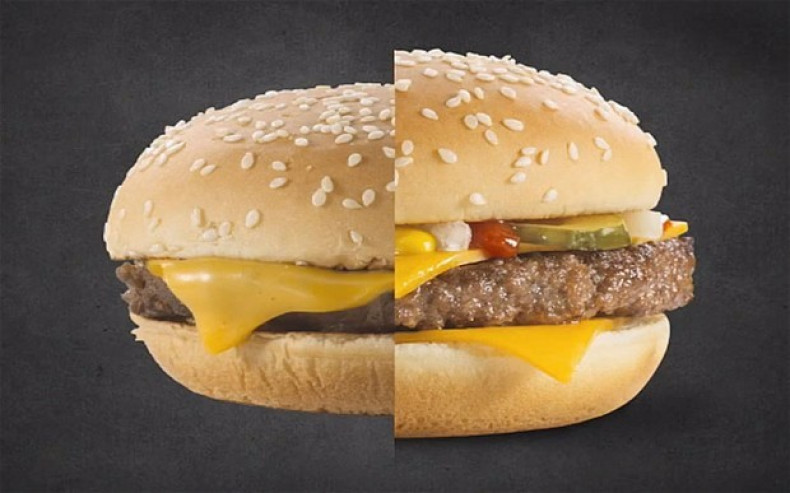 Have you ever wondered why the McDonald's cheeseburger you have just purchased does not look like the one in the adverts?
Well, it could be because yours has not been put through the painstaking process of "food-styling", which makes the chain's burgers appear bigger, juicier and tastier.
In a three-minute video, which went viral within hours of being uploaded on YouTube, the fast food favourite reveals the secrets behind its meticulous photoshoot procedures.
The video reveals the lengths that technicians, photographers and McDonald's executives go to in order to ensure that the chain's products are presented with tasty perfection.
Hope Bagozzi, director of marketing for McDonald's Canada, walks viewers through a hamburger photo shoot, from the use of syringes to insert ketchup to puffing up their buns with Photoshop.
Bagozzi not only shows the way in which every ingredient is carefully placed and arranged with precision, but also how final touches are added once the "makeover" is complete.
Enhancing colours and rearranging sesame seeds are just a few of the extra steps that are taken to make the burger look extra appealing.
She explains: "The process we go through on the average shoot takes several hours.
"It's important to note that all the ingredients are the exact same ingredients that we use in the restaurant.
"So it is the exact same patty, it's the exact same ketchup, mustard and onions and same buns."
The video was posted in response a young Canadian customer's question "Why does your food look different in the advertising than what is in the store?"
The candid move is part of the company's aim to offer more corporate transparency to its customers.
So there you have it. A normal burger ordered at McDonald's is cooked and served within a few minutes, while the burgers seen on TV undergo a photo shoot that has been carefully prepared by a team of food stylists and photographers.
Check out the video below: