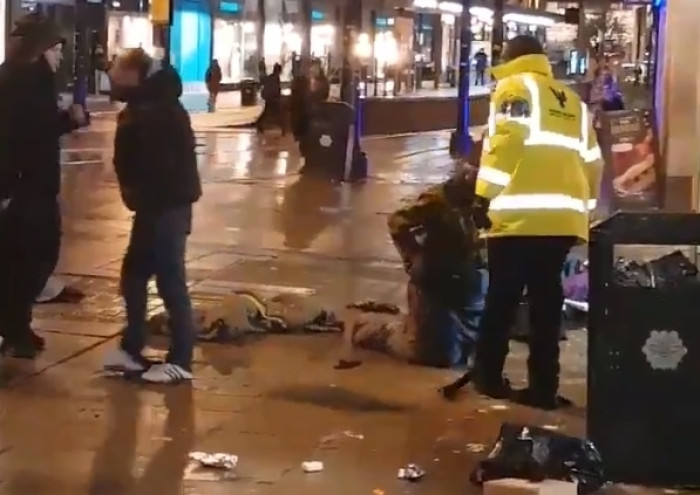 Shocking footage has emerged showing what is believed to be a McDonald's security guard kicking the belongings of a homeless man after "dragging him across the floor" in Manchester.
The footage, uploaded to Twitter by Kevin White, shows two men in hi-vis jackets confronting a man in a sleeping bag with various possessions strewn across the street.
Passers-by can be heard expressing their outrage at the situation, telling the men "you can't do this to people".
White condemned the "disgraceful treatment "of the homeless man in the clip, claiming he had seen one security guard drag him across the floor.
It is not known what stared the conformation between the men on the morning of 20 December.
A McDonald's spokesperson told IBTimes UK: "We are aware of this incident and we apologise for the homeless man's belongings being moved by our security guard, it was not our intention to cause any upset."
The incident comes as the homelessness crisis in Manchester remains an area of concern. Following his election as mayor of Manchester, one of the first pledges made by Andy Burnham was to end rough sleeping in the city by 2020, promising to "put words into action" by donating 15% of his £110,000 salary towards a new homelessness fund.
Burnham recently announced the Mayor's Homelessness Fund has since gone on to raise more than £135,000 towards tackling the rise of homelessness in the city.
He said: "When I was elected I asked people to support our efforts to end rough sleeping in Greater Manchester and I have been taken aback by the generosity of people in our city-region.
"I'd like to thank everyone who has given their time, money and effort to help those in Greater Manchester who desperately need our support.
"Since being elected I've regularly been out on our streets speaking with those who have no alternative but to sleep in doorways, risking their lives as temperatures plummet. It is unacceptable that this is still happening in 2017."
Elsewhere, the government has been condemned for its "abject failure" in dealing with the national homeless crisis.
Meg Hillier, chair of the Department for Communities and Local Government (DCLG), said the government has been "unacceptably complacent" in their attempts at reducing rough sleepers in a report detailing how more than 9,000 people are sleeping on the streets and more than 120,000 children are currently homeless and living in temporary accommodation.
John Healey, the shadow housing secretary, said: "This damning cross-party report shows that the Conservatives have caused the crisis of rapidly rising homelessness but have no plan to fix it.
"This Christmas the increase in homelessness is visible in almost every town and city in the country, but today's report confirms ministers lack both an understanding of the problem and any urgency in finding solutions."