MediaTek has recently conducted an extensive heat test in comparison with Snapdragon's 810 chipset to determine which one runs cooler among the two most powerful mobile phone processor chipsets available to date.
Folks at STJS Gadgets Portal have laid their hands on an alleged copy of leaked internal document from MediaTek, which reveals the details on the various tests performed by both the processor chipsets.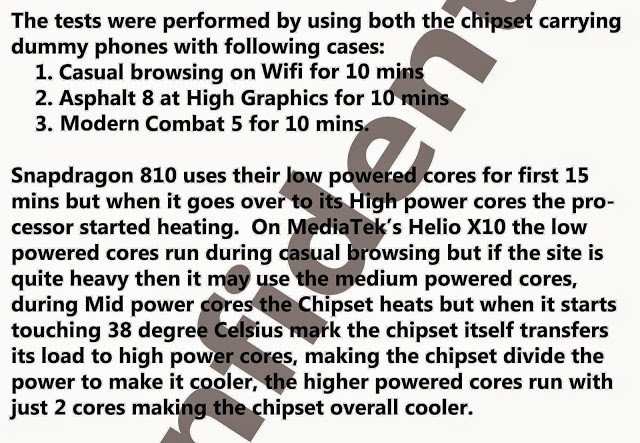 The leaked document suggests that two dummy phones running either of these chipsets were evaluated for heat management issues across various categories (for 10 minutes each) including casual browsing, Asphalt graphics benchmark, and Modern Combat gaming benchmark.
It is ascertained from the leaked document that the Snapdragon 810 transfers the load from low-powered cores to high-powered cores when the processor starts overheating, which is typically after 15 minutes of peak load on the low-powered cores.
In contrast the MediaTek's X20 can dynamically switch between low-powered to medium, medium to high-powered processor cores and vice-versa, depending on the load on the processor and heat generated in the process.
For instance, a high-end graphics video game could force the processor chipset to overheat as it touches 38 degree Celsius, which is the threshold temperature for mid-power cores. Right at this moment, the chipset transfers the load to high power cores that uses only two cores to alleviate the excess heat generated.
One glance at the graph depicting the heat test results between MediaTek's Helio X20 and Snapdragon 810 clearly suggests that the former runs way cooler (23 to 33 degree Celsius) than the latter even when the processor is on peak load.
On the other hand, Qualcomm's Snapdragon 810 hits the threshold temperature of 45 degree Celsius at peak load, before falling down to 40 degrees Celsius soon after the switch from low-powered to high-powered processor cores.