A major emergency operation is underway in the Mediterranean after a boat carrying up to 700 migrants capsized between Libya and Italy.
The incident took place about 130 miles from the island of Lampedusa and 20 miles from Libya. Eye-witnesses say the boat capsized when those aboard saw a merchant boat and rushed to one side.
Up to 20 boats and three helicopters from Italy and Malta are involved in the search for survivors and so far 28 survivors have been found but another 670 are feared drowned. Twenty bodies have so far been recovered.
An Italian lifeguard said the search for survivors would soon become a search for bodies, telling the BBC "between 500 and 700 migrants" were aboard the ship.
"At the moment, this is still a search and rescue operation, but in time it will be a search [for bodies] only," said the spokesman.
Maltese Prime Minister Joseph Muscat tweeted: "@Armed_Forces_MT assisting rescue op after boat wt 650 immigrants capsized in #Libya waters. Less than 50 rescued so far. Many feared dead."
Rise in migrants in the Med
Last week around 400 perished after a similar incident when a boat carrying migrants from Libya capsized in the Mediterranean. A number of bodies were later washed ashore in Libya.
There has been a surge in the number of migrants making the perilous journey in the last few weeks, mostly coming from sub-Saharan Africa and war zones in the Middle East.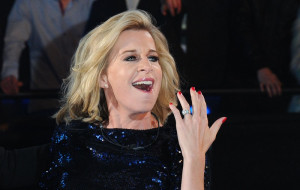 Migrants are paying thousands of dollars to unscrupulous traffickers to board the rickety ships in the hope of securing a better life in Europe.
Many have already travelled thousands of miles, often through dangerous and hostile territory, before reaching Libya's coast.
In recent days there have also been reports of Muslim migrants throwing Christians overboard and people burned in a gas canister explosion refused medical aid, before being transported across the sea in open boats.
Italy has requested more help from the European community to rescue and care for migrants rescued off its southern shores but continues to bear much of the responsibility for the crisis, frequently rescuing migrants on boats in international waters.
Sun columnist Katie Hopkins sparked a race row last week when she called for the use of extreme violence, including the use of gunships, to prevent migrants reaching UK shores.