An Italian coast guard ship has arrived in Malta with the bodies of 24 migrants recovered from the Mediterranean Sea. Hundreds are feared to have drowned after a migrant boat capsized in the Mediterranean.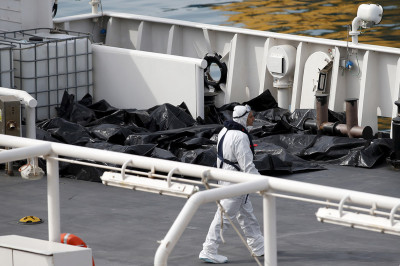 The death toll from Sunday's (19 April) shipwreck off the coast of Libya is uncertain after officials said there had been at least 700 people on board, some reportedly locked in the hold. A Bangladeshi survivor brought by helicopter to hospital in Sicily reportedly told police there had been 950 passengers on the boat.
A toll of that magnitude would mean that more than 1,500 people have died so far this year making the perilous crossing, packed into rickety boats by human traffickers in a bid to reach a better life in Europe.
Malta and Italy are closest to the Libyan coast, and have received the brunt of a migrant tide that carried 219,000 people from Africa to Europe last year. Some 3,500 died or went missing along the way, the UN High Commissioner for Refugees Antonio Guterres said.
The Italian coast guard said 28 people had been saved from the shipwreck. The survivors are on the same boat as the victims and will be taken to Italy.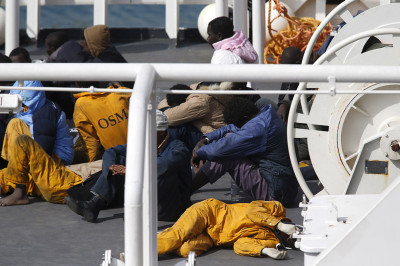 The 20m-long vessel sank 70 miles from the Libyan coast, south of the southern Italian island of Lampedusa, as a large merchant ship approached it. A survivor told the United Nations' refugee agency UNHCR that 700 people on board, hopeful the ship would save them, moved to one side, toppling the boat.