It is just three weeks into the New Year, but Meek Mill and 50 Cent have already started hip hop's latest feud. Fans have been kept entertained by the American rappers, who have been trading insults on Instagram, also name-dropping several of their peers including Drake, Nicki Minaj, Irv Gotti and Tony Yayo.
The scathing row kicked off after Maybach Music Group rapper Mill released his 4/4 EP, featuring a diss track, Gave 'Em Hope, aimed at 50 Cent, aka Curtis Jackson. Defending his MMG boss Rick Ross, who has a long-standing feud with 50 Cent, Mill dedicated an entire verse of the track to his rival, rapping: "I got fifty reasons say you're taking d**k, and it's fifty reasons I should kill, n***a."
Mill also referenced his girlfriend Nikki Minaj, who comes from Queens in New York City, as does 50 Cent: "Got the richest chick, she's from your hood." Alluding to his rival filing for Chapter 11 bankruptcy, Mill raps: "You tried to go 'Money' May with that paper, but now you in debt 'cause you never was that."
The row spilled on to social media, with 50 Cent responding on Instagram: "LMAO Hey s**t head, your career is over already. You better focus on getting Nikki pregnant so you can at least get child support girl." Alongside another photo of Mill, 50 Cent added: "Hip Hop's first retarded MC. This nut make philly look bad. I got put some new philly artist on because this fool."
Listen to Meek Mill's Gave 'Em Hope here:
50 Cent then mentioned Mill's previous feuds with other rappers, quipping: "But your honor, I'm not a gangsta, I'm just retarded. Look I went at DRAKE, FUTURE, and 50cent. Smh S**t head!" The rapper then mocked Mill by posting several memes of him crying and Photoshopped as a woman.
Although he took aim at 50 Cent on his diss track, Mill elaborated on his words in a lengthy Instagram post, mentioning the hip hop mogul being ordered to pay Rick Ross's ex-girlfriend for leaking her sex tape, his turbulent friendship with boxing champion Floyd Mayweather, and alcohol business venture Effen Vodka, which 50 Cent part-owns.
Mill wrote on Instagram: "U pop s**t on social media 24/7 ... U never in the places everybody b at.... The whole queens say you a rat.... Ross baby mom hit you for that check you sick .... Ross finished you "career over?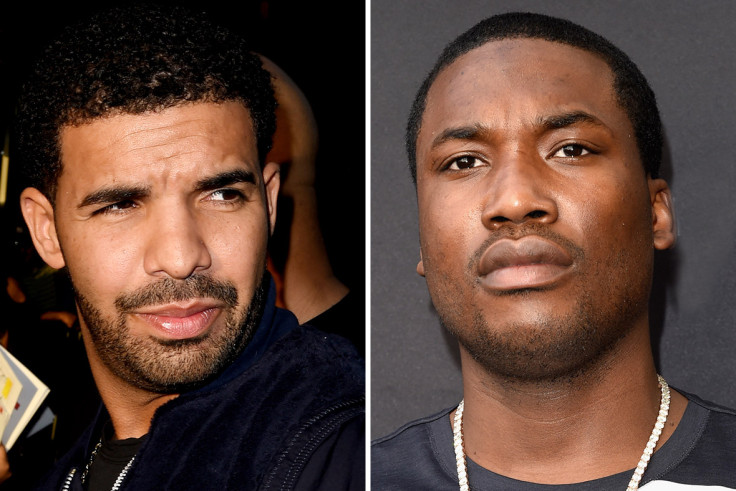 "All you artist that came under you broke ya son hate you smfh! Ya swag on below '0' lol hold up..... U always hating on puff and Hov other go getters from ya city...... U going broke and you miserable .... U really miserable bro.... You like 40 on the internet all day. Mayweather ain't got tickets for you nomore .... Ya liquor is p**s."
Mill continued in the post: "I bet any amount of money queens would trade me for you! "You the one made it cool to b a hater" I'm out Sincerely – instafingers. @iamdiddy @ceoslow stop letting this dork play around ... He already been shot 9 times lol he like a vegetable or something .... @irvgotti187 can you clarify that he told on y'all? We need answers!"
On the 4/4 EP, Mill also reignited his highly publicised feud with Young Money star Drake on the track I'm Da Plug. Criticising Drake for using a ghostwriter yet again, the I'ma Boss rapper says: "You ain't really write it, I'm like 'who's your stuntman?' Back to back, the Maybach, I be really stuntin."