As millions of refugees flee countries in the Middle East, grassroots movements are becoming increasingly popular way to raise money for people displaced from their homes.
The biggest social fundraising site, GoFundMe, has attracted more than $3.4 billion (£2.7 billion) since it was founded – and in recent years, people have turned to the site in response to humanitarian crises such as floods, earthquakes and the fallout of conflicts around the world.
In just three months, 12 campaigns led by Brits have raised more than £20,000 for displaced people.
"It's incredible how people are turning to sites like GoFundMe and showing remarkable kindness to people going through the toughest times," said John Coventry, head of UK comms for the site.
"Rather than sitting back waiting for others to act, the GoFundMe community is standing up and taking action – it's a fantastic display of online people power turning into real impact on the ground."
One campaign to raise money for refugees displaced after the demolition of the "Jungle" refugee camp in Calais, which aimed to raise £500, has received more than £4,600 in donations.
Another campaign has raised more than £3,000 to deliver essential food to the Nea Kavala refugee camp in northern Greece.
One volunteer from Brighton has raised over £1,000 to help repair bicycles and teach road safety to refugees in Thessaloniki, Greece, because the main mode of transport for refugees is donated bicycles. Another is distributing sleeping bags and food to refugees sleeping on the streets of Paris.
IBTimes UK witnessed the ongoing refugee crisis in Greece during a visit to the Moria refugee camp on the island of Lesbos, which saw a spate of deaths in January as temperatures plummeted.
As news of the conditions of refugee camps and the plight of displaced families spread, more people have turned to crowdfunding to do their bit to help in the crisis.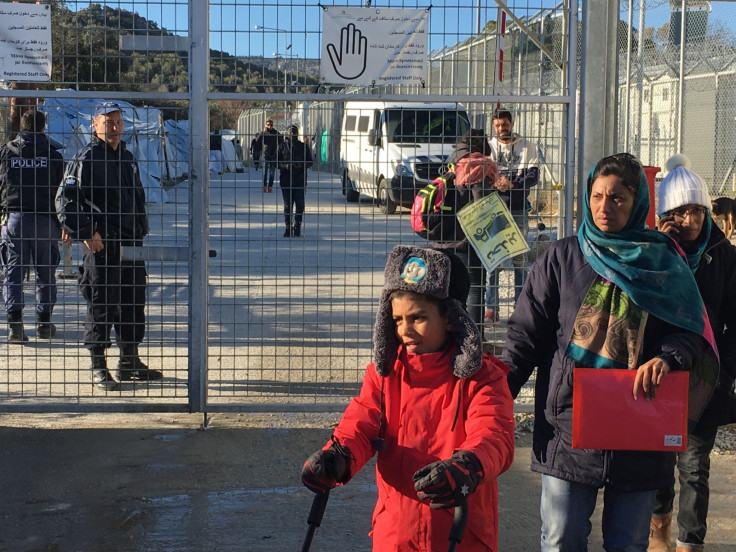 Recent decisions in the UK have also led to a rise in donations. In February, it was quietly announced that the Government would scrap its pledge to take in 3,000 unaccompanied child refugees under its "Dubs" scheme. Under the plan, only 200 lone children have been brought to Britain, with just 150 due to be transferred.
Whether or not the decision to scrap the scheme is reverse remains to be seen, but people across Britain have responded by going online and raising money for refugees.
It's not just the refugee crisis that has seen people donating, but the aftermath of the presidential travel ban in the United States. After Donald Trump signed an executive order halting travel to the US from seven majority-Muslim countries, crowdfunding campaigns on GoFundMe and CrowdRise raised more than $1 million (£800,000) related to the ban.
According to the New York Times, people have been donating to cover the costs of people affected by the travel ban, such as finding somewhere to stay or changing travel plans.
"Just two weeks ago we saw a range of campaigns in a number of countries supporting people caught up in the US travel ban, and we've seen a real explosion in campaigns supporting work on the frontline of the refugee crisis,""