Megan Fox pregnant: Husband Brian Austin Green confirmed as father but is the divorce still on?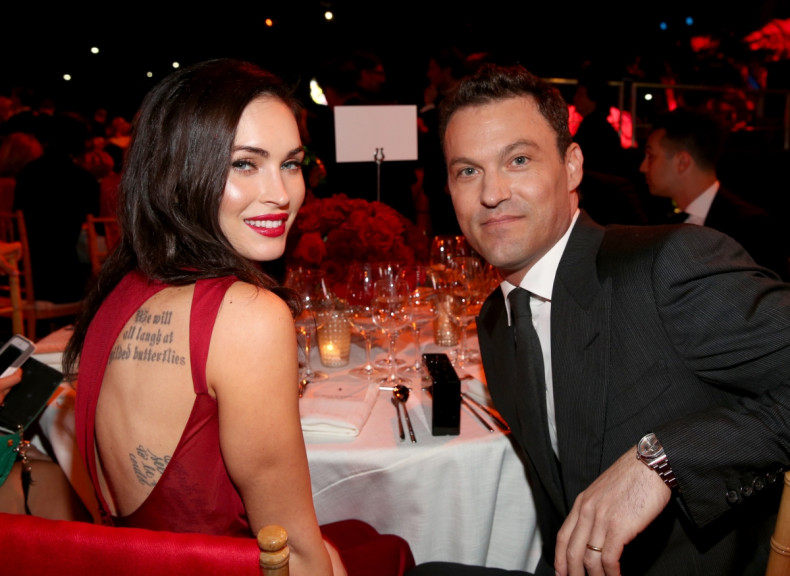 Megan Fox took to social media to cheekily address the identity of her baby's father, while reports acknowledge her estranged husband Brian Austin Green as the dad. The Teenage Mutant Ninja Turtles actress revealed her pregnancy bump at CinemaCon in Las Vegas on 11 April.
In an Instagram post, the 29-year-old actress added fuel to the mystery of her third child's father with a montage of her former co-stars, Transformers star Shia LaBeouf, New Girl's Jake Johnson and Teenage Mutant Ninja Turtles: Out Of The Shadows actor Will Arnett. The bold caption read: "#NotTheFather."
Green, 42, is not in the photo but a source in People magazine confirmed that the Desperate Housewives actor is "of course" the father. The news of the baby's paternity has come as a surprise given that Fox filed for divorce from Green in August 2015 after five years of marriage. However, the insider said the estranged couple "never stopped loving each other and they will never stop being devoted parents to their boys. They both love being parents".
Another source claimed Fox and Green are "very excited" about the new addition to the family and are "continuing to work on their marriage and are living together again". E! News reports that the divorce "will likely be put on hold for a while. This pregnancy was not planned, but when they found out they were extremely happy". However, TMZ reports that Fox is still going ahead with the divorce.
When asked if he should be congratulated on the pregnancy news on 12 April, Green told the host of Fox's Good Day LA: "I don't know. What's up with me? What's going on?" before adding: "Sure! I congratulate myself. Yay! I'm in the race!" in reference to an upcoming driving race in Long Beach.
Green and Fox have been together for a total of 11 years and share two sons Noah, three, and Bodhi, two. The married couple were seen out together in Santa Monica on 12 April, which goes some way to confirm their reunion.
In an interview with People in March 2016, Fox gushed over motherhood and her hopes for Noah and Bodhi's career path, saying: "I would love one of them to be a painter or a poet and, like, wear scarves and walk around Paris, like angsty. Then I would like one to be a musician, maybe. Their dad Brian plays jazz drums and is a good musician. So I think one of them is going to have the spark for that."