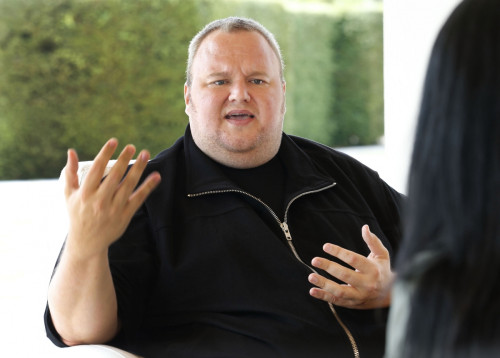 Kim Dotcom, the founder of banned file-sharing website Megaupload, wanted to copy the protected YouTube videos to his cloud storage, violating copyrights held by YouTube uploaders, according to evidence laid out against him by the US justice department.
The Wall Street Journal reports that Federal prosecutors produced 191pages of evidence against Dotcom and Megaupload, which was shut down earlier for sharing unauthorised content online.
Top executives at the website called themselves "modern pirates" and admitted in Skype conversations that they profited from people sharing unauthorised copies of movies and videos, according to the prosecutors' documents.
The executives talked about copying protected videos straight from Google's YouTube, according to them.
"Kim really wants to copy YouTube one to one," wrote programming director Bram van der Kolk in a February 2007 email to the site's chief technical officer, Mathias Ortmann.
"If copyright holders would really know how big our business is they would surely try to do something against it. They have no idea that we're making millions in profit every month," Van der Kolk told Ortmann in a Skype conversation two years later.
According to the documents, Megaupload and affiliated sites generated more than $25m (£15m, €18m) through advertising revenue and collected about $150m from premium subscription fees.
Van der Kolk allegedly told Ortmann in a September 2007 Skype conversation: "We're modern pirates :-)", adding: "People will always share files and download their stuff for free."
Dotcom and his six associates have been listed as defendants to charges including racketeering, copyright infringement and money laundering, according to the WSJ.
The defendants who are residents of New Zealand have yet to make a formal appearance in a US court in connection with the case. They denied charges through their attorney Ira Rothken.
Unauthorised File-sharing
Megaupload was one of the websites that allowed users to upload files and share them with others. It had been widely accused of allowing pirated content on its servers.
The website was among the Federal Bureau of Investigation's targets as Hollywood campaigned against unauthorised online sharing of movies and music. It was shut down in January 2012, following the arrest of Dotcom, who is a resident of New Zealand.
About $42m worth of assets of the company were frozen by the Customs and Excise Department of Hong Kong, where it was based.
The company's founder, Dotcom, has denied any wrongdoing, and the case against him has been the subject of a controversy over its legality.
On 19 January 2013, Megaupload was re-launched as Mega under the domain name mega.co.nz, exactly a year after the original site was taken down by the FBI.