It's a tradition that once a member of the royal family introduces a person they are dating to the Queen, they will go on to marry them.
So it's no wonder that tongues were set wagging when Meghan Markle, 36, was reportedly whisked up to the Queen's private sitting room at Buckingham Palace for a chat about her future plans with Prince Harry for approximately one hour.
A close friend of the late Diana's, Richard Kay, writes in the Mail that Harry was the one to introduce his girlfriend to the Queen, 18 months after meeting the US Suits actress at the Invictus Games.
The trio had tea together and it was thought to have happened last Thursday, which will no doubt prompt royal watchers into thinking an engagement is imminent.
Kay says that the fifth-in-line to the throne "desperately wanted his grandmother to meet divorcee Meghan" after over a year of dating and flying between Toronto, Canada, where Markle lives, and his apartment in Kensington Palace, where the actress often stays.
The teatime meeting was deliberately informal, which is no surprise for the very modern Harry, who silenced royal aides with his privacy statement last November warning the media to back off when it comes to his girlfriend.
The couple – who made several public appearances together at this year's Invictus Games – were driven into the inner courtyard before being taken to the Queen's private sitting room on the first floor which overlooks the palace gardens and Constitution Hill at around 5pm. It is said to be the Queen's favourite time of day and it's a bonus when her grandchildren join her.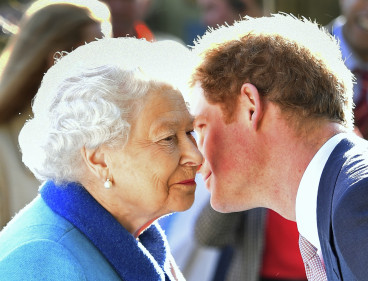 The Queen, 91, had just returned from her long summer break at Balmoral Castle two days earlier, and Prince Philip was not there to meet Markle.
Royal commentator Richard Fitzwilliams believes that an engagement is definitely on the horizon now that Markle has met Her Majesty.
He told IBTimesUK: "This report means we can expect an imminent engagement, with Meghan also rumoured to be leaving her TV series Suits.
"Her interview in Vanity Fair set the scene, their appearances at the Invictus Games confirmed their closeness and meeting the Queen was the logical next step before announcing their engagement which is expected, probably after the Queen and Duke's Platinum Wedding Anniversary, very shortly.
"A summer wedding next year is expected to follow and there will be much speculation about the venue. Media interest will obviously be phenomenal," Fitzwilliams added.
The Queen and Prince Philip's wedding anniversary takes place on 20 November, so time is ticking.
Who is Meghan Markle? Read all about the Suits actress here.