Meghan Markle says children Archie, Lilibet starting to learn how to say 'Invictus'
The Duke and Duchess of Sussex are expected to stay at the 2023 Invictus Games in Düsseldorf, Germany until September 16.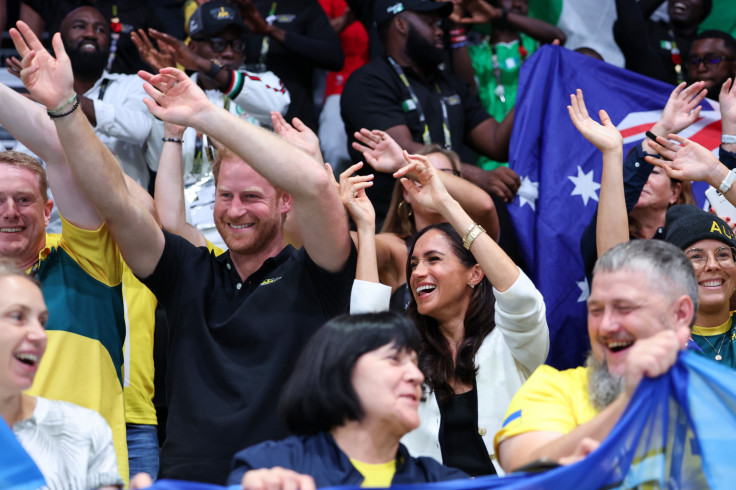 Meghan Markle remembered her children Prince Archie and Princess Lilibet while at this year's Invictus Games. She talked about them during a chat with one of the competitors about the importance of the games to the athletes.
Laura Reynell from Australia got the chance to chat with the Duchess of Sussex when they sat together to watch the Wheelchair Basketball match on Wednesday, Sept. 13. She remembered their exchange telling ABC Sport that it was "really nice from the get go" because the royal "was so nice" and that it was "like chatting to a friend back home".
She shared that the former "Suits" star mentioned her children Prince Archie, 4, and Princess Lilibet. She said: "We spoke about her kids and how they're like starting to say the word 'Invictus' and run around the house together." But the bulk of their conversation centred on how the Invictus Games has helped the veterans and injured military members in her country.
Reynell shared: "Mainly about what Invictus is doing for the Australian community back home, first for serving and non serving members now. So their rehab journey and what's happening as they transition in and out like out of defence or out of their surgeries and how big that change is starting to happen around."
She continued: "So it's not just a community day anymore it's being able to find that team that you wanted to be a part of again and then find that competitiveness that you thought you'd lost as well." Reynell said that the Invictus Games has given veterans a sense of purpose and hope.
Meghan Markle was seen on the bleachers cheering for Team Australia and laughing and chatting with Reynell. Prince Harry was also seen talking to the team's psychologist Tavis Watt, who was seated beside him.
Watt said the Duke of Sussex was really interested in "the mental health aspect of the games and how sport helps with mental health". He added that Prince Harry was "just really interested in talking about the journey of the competitors and his desire to support the competitors throughout their recovery from military service".
Meghan Markle also gave a shout out to Prince Archie and Princess Lilibet during her speech at the "Family & Friends" party hosted by the Fisher House Foundation on Tuesday, September 12. She shared her excitement to bring the children to the Invictus Games so they can also "experience just how awesome" it is.
Prince Harry also spoke about one day introducing their children to the Invictus Games during an interview with People at last year's games in The Hague. He admitted: "We can't wait! I showed Archie a video of wheelchair basketball and rugby from the Invictus Games in Sydney, and he absolutely loved it."
He added: "I showed him how some were missing legs and explained that some had invisible injuries, too. Not because he asked, but because I wanted to tell him. Kids understand so much, and to see it through his eyes was amazing because it's so unfiltered and honest."
Talking about his military service, Prince Harry said that he wants Prince Archie and Princess Lilibet to know that he is grateful for every experience he had in and out of his uniform and that he "learned how to be in true service to others". He added: "That finding your purpose is one of the most gratifying experiences. And that working hard should be fulfilling and rewarding at the same time."
Prince Harry and Meghan Markle are expected to stay in Düsseldorf until the closing ceremony of the 2023 Invictus Games on September 16. Meanwhile, their children Prince Archie and Princess Lilibet are in California likely under the care of the duchess' mother Doria Ragland.
© Copyright IBTimes 2023. All rights reserved.