Love Robot Wars and always wanted to beat up some pesky machines? Well now you can with MekaMon, the world's first gaming robot ecosystem where players can control a four-legged fighting robot from their smartphones against either other battlebots or fantasy enemies in augmented reality.
MekaMon is the brainchild of Reach Robotics, a Bristol-based artificial intelligence start-up cofounded by Silas Adekunle, 25. In 2010, Adekunle was an undergraduate studying robotics at the University of the West of England (UWE Bristol) and he pitched an idea to start a programme teaching young people in schools about robotics.
He might have been young, but his idea was so good that the Prince's Trust, HP and UWE Bristol all agreed to help fund it, and he began going into schools, which was where he began dreaming up the idea for MekaMon, before eventually forming a company in 2013 with former Airbus mechanical engineer John Rees and PhD roboticist Chris Beck.
"I wanted something that could be fun and provide an opportunity to teach. People go out and buy toys and they get bored in a few days, but if you create something with gaming, it captures their imagination. We're combining robotics, AR and video gaming to find a new way for people to play in the 21st century," Adekunle told IBTimes UK at the Slush 2016 tech conference in Helsinki.
The MekaMon gaming robot ecosystem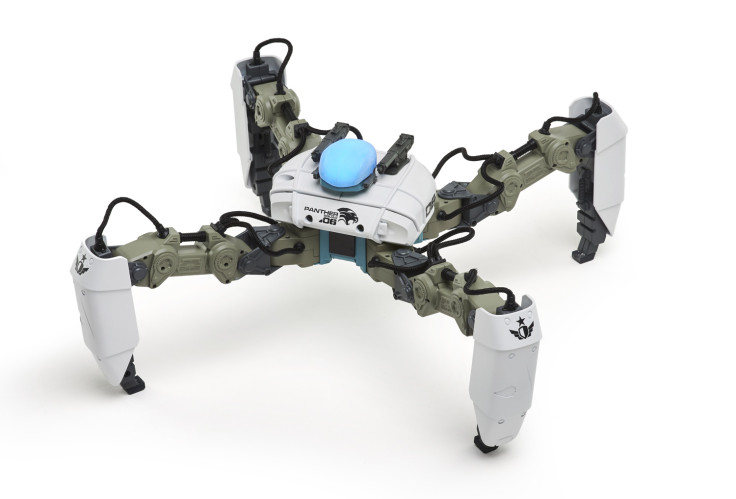 MekaMon is suitable for age 8 and up. It consists of an Android and iOS smartphone app and the robot itself, which has three degrees of freedom per leg to enable complex fluid motions and comes with a rechargeable lithium ion battery in its chest that gives an hour of playtime.
The robot's movements are tracked using your smartphone camera and the robot and the smartphone communicate using Bluetooth Low Energy and infrared, while group games consisting of multiple battling robots are hosted over Wi-Fi.
The game is built using the Unity gaming engine and is centred around a fantasy world whereby the robots are defenders trying to save humanity (somewhat similar to the sci-fi film Pacific Rim). The robot moves around your home in real-time battling augmented reality enemies that only you can see on your smartphone screen.
The robot features a modular design and the idea is that users can plug in different attachments to the robot's legs, so the initial MekaMon kit comes with four shields and two weapons for this purpose. And to get people interested in learning to code and robotics, the player has full control to manually tweak settings and decide exactly how the robot moves in the app.
Getting people interested in coding and robotics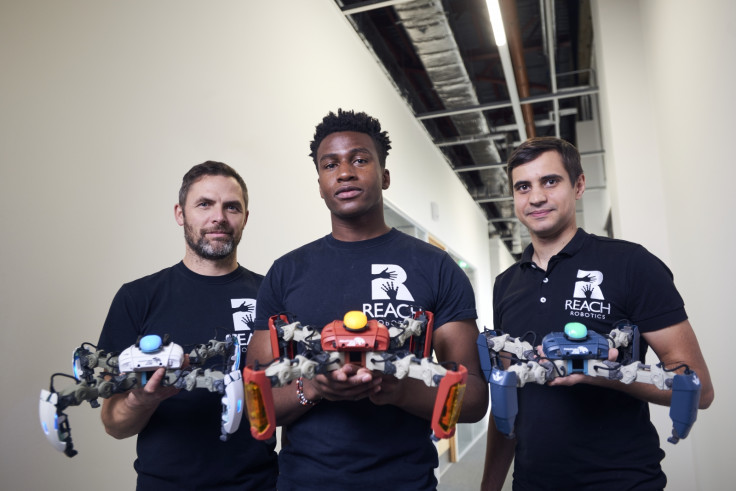 Later on in 2017, Reach Robotics also plans to release the robot's software development kit (SDK) with easy-to-follow instructions that can be downloaded for free so that users can start tinkering with the robot's internal workings and adapt them to make the robot do many more things.
"It was quite hard to get into robotics and that's why I created this so you have fun and actually enjoy what you're doing this, rather than tinkering for the sake of tinkering. You can literally give the phone to someone and they can control the robot easily," said Adekunle.
"We're getting people into robotics by making sure the interface is really simple and easy to use, that's where we're starting. We don't start off showing you any code. We want to capture their imaginations and that makes them curious, and then after that then show them the SDK."
Reach Robotics has many more ideas for its gaming robot ecosystem, and is currently discussing with partners about some sort of robotics education programme that people who have bought the robot will have free access to.
The firm also plans to release more video games with different back stories that all involve the MekaMon robots. One idea is to have a game whereby multiple players can compete to gain control of one physical robot – this was piloted at the Tech Crunch Disrupt event in London on 5-6 December where Reach Robotics mentored a hackathon where hackers battled to gain control of two battlebots.
MekaMon is currently available for pre-order online for either $279 (£220) for one robot or $499 for two, and the products will ship in January 2017.