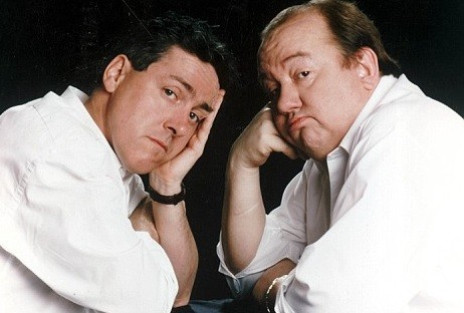 Comedian Mel Smith has been found dead at home in north London after a suspected heart attack, his agent has confirmed. He was 60.
Smith first came to prominence in 1979, when he appeared in the BBC sketch show Not The Nine O'Clock News, alongside Pamela Stephenson, Rowan Atkinson and Griff Rhys Jones, with whom Smith would go on to form a lasting business and comedy partnership.
He and Rhys Jones achieved fame in their own right in 1982, with TV comedy series Alas Smith and Jones. The show was one of the first to be produced by an outside company, Talkback Productions, and sold to the BBC. The company itself was sold in 2003 for £60m, to Thames.
Smith directed several feature films, including The Tall Guy and Bean, and - disastrously - worked with Star Wars creator George Lucas on the flop Radioland Murders.
Smith is known to have suffered from chronic gout, and developed an addiction to painkillers that led to him being hospitalised with a perforated ulcer in 1999.
More recently, Smith's health had been the subject of speculation since a 2009 appearance on the BBC show Mastermind, after which many fans commented on his pallor.
A spokesman for the BBC said: "Mel was unwell on the day of recording with a serious throat infection. He was representing a charity and didn't want to let them down.
"We were grateful he went ahead with the recording despite not being at his best."
Comedian Stephen Fry paid tribute to Smith, writing on Twitter: "Terrible news about my old friend Mel Smith, dead today from a heart attack. Mel lived a full life, but was kind, funny & wonderful to know."
Author Kathy Lette wrote: "RIP Mel Smith. Sorry to bring sad and bad news, but apparently he died from heart attack in his sleep."
Writer Irvine Welsh said: "Sad to hear about the death of Mel Smith, who gave me loads of laughs."
Watch Mel Smith and Rowan Atkinson on Not the Nine O'Clock News:
Watch Mel Smith and Griff Rhys Jones in one of their famous 'head to heads':