United States First Lady Melania Trump has presented the 2017 Secretary of State's International Women of Courage Award to pro-democracy activist Rebecca Kabugho from the Democratic Republic of Congo (DRC).
This award honours women who have demonstrated exceptional courage, strength, and leadership in acting to improve the lives of others.
Kabugho from Goma (North Kivu), one of the 13 recipients of the award, spent months in jail for her political activism on behalf of pro-democracy citizen movement, Lutte pour le Changement (Struggle for Change, LUCHA). Aged just 21 at the time, she was one of the youngest prisoners of conscience in the world.
"Rebecca played a key role in a series of peaceful and non-violent demonstrations demanding the Congolese Government hold credible elections in 2016, as required by the Congolese constitution," Thomas Shannon, Under Secretary of State for Political Affairs, said at the awards ceremony.
Branded "terrorists" and "thugs", in February 2016, Rebecca and five of her male colleagues were sentenced to long prison sentences in a politically motivated campaign to silence dissent in the resource-rich nation. They were convicted of inciting civil disobedience while planning a peaceful demonstration calling on President Joseph Kabila to abide by the Constitution.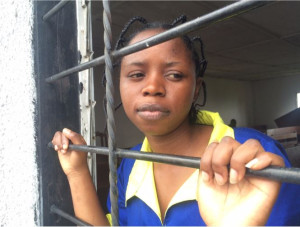 Kabugho was released on 26 July 2016 by way of presidential pardon, with less than a month to serve on her six-month sentence imposed by a Congolese court on charges of "attempting to incite disobedience".
"Upon her release in 2016, she emerged as a voice demanding democratic reform and social change," Shannon said.
On 19 December Rebecca and 18 of her colleagues were arrested again during a peaceful demonstration demanding the resignation of the government, deemed illegitimate. Kabugho, who was released a week after her arrest, has become an inspiration for many young girls in the DRC.
Shannon added: "Rebecca is being honoured for her visionary leadership, commitment to ushering in positive change through nonviolence, and for standing up to improve the lives of the disadvantaged in her country."
Pragmora, a conflict-resolution group that has focused on Congo issues, offered its congratulations on Twitter. "Very proud of Rebecca Kabugho – today she received the International Women of Courage Award".
---
Read Rebecca Kabugho's biography here:
Who is Rebecca Kabugho, one of the world's youngest female prisoners of conscience?