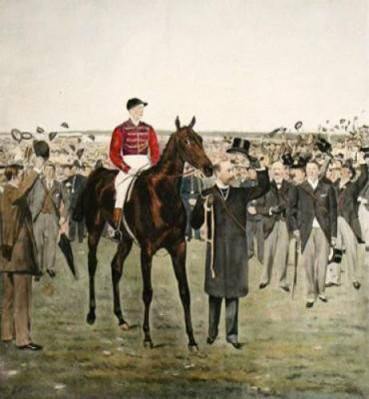 Mementoes of Persimmon, one of the most famous racehorses of the second half of the 19th century, are to be auctioned at Bonhams Sporting Sale in Edinburgh on 21 June, 2012.
Persimmon won the Derby in 1896 in a new record time and the St Leger and the Ascot Gold Cup in 1897. In nine starts, he was only beaten twice. Bred and owned by the Prince of Wales at Sandringham, he was trained by Richard Marsh from Edgerton House, Newmarket and his most famous jockey was John Watts.
A British Thoroughbred race horse and sire, Persimmon was also notable for his rivalry with another English colt St Frusquin, who inflicted his only two defeats. His other important victories included the St Leger, the Ascot Gold Cup and the Eclipse Stakes.
Persimmon later became a successful sire, and amongst his offspring was Sceptre, winner of four classic races in 1902. Persimmon's another sire St Simon was an undefeated racehorse who was considered one of the best British runners of the 19th Century. In an outstanding stud career he won nine sires' championships, having sired ten Classic winners.
He headed the list of sires of winners four times and was head of the damsire list three times during his relatively short stud career. Persimmon died of a fractured pelvis at the age of fifteen in 1908.
Edmund Charles Walker was the head stud groom at Sandringham who raised Persimmon from foal. As a result of Persimmon's success he became Stud Manager, remaining in royal service for 50 years.
The lot, which carries an estimate of £1,500-2,000, consists of a walnut panelled box with Persimmon carved on the top of the lid. On the underside of the lid is a watercolour of the horse - with jockey John Watts mounted in the royal colours signed by John Sturgess. There is also a prize plate engraved Persimmon Winner of the Ascot Gold Cup 1897 and a stick pin of a jockey in royal colours mounted on Persimmon.