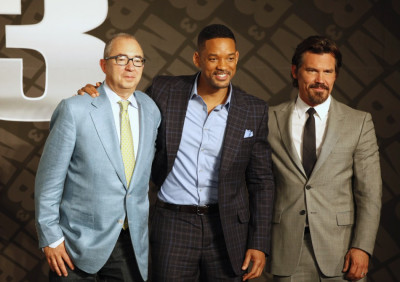 The stars of the film Men in Black: 3 attended a news conference in Seoul to promote the third installment of the popular sci-fi/alien franchise. Will Smith (and his wife Jada Pinkett Smith), the film's director Barry Sonnenfeld, and Josh Brolin were all on hand at the event and reportedly had much fun talking about the film.
"Playing a character three times for me, it feels like home. You know it is wonderful. I have been off camera for about four years now. So, it is the first movie, I have made in, in almost four years. So for me, coming back to something that I know that is warm like a family reunion," Smith said at the news conference in Seoul.
"It's just part of the game. I'm not going to play that part, but I can understand where somebody would have something in their heart where they have to stab somebody, they have to poke at somebody, but I'm indestructible. You are gonna hurt yourself stabbing at me," Smith told Access Hollywood when asked about the rumours that his marriage was on the rocks. Pinkett arrived on the red carpet in a lovely pink gown.
"The floor-length gown adorned with sequins featured a drop waist and flowing skirt. She let the dress do all of the talking by tying her hair back in a simple ponytail and slipping on some delicate silver jewellery. Smith looked dapper in a black and white checked suit and a lavender-pink shirt which complimented his wife's ensemble," described the Daily Mail.
"I almost want to say that we should have been expecting it [but] Smith and I know the truth. We're waiting peacefully for the storm to blow over. These rumours are completely untrue. I travel a lot because of my work, just like Will does... But our lifestyle hasn't changed," Pinkett told the Gala magazine about the same rumours.
Meanwhile, Tommy Lee Jones, who has also been present in the franchise since the first film, was missing. The first film in this trilogy was released in 1997, while the second came out in 2002.
Men in Black: 3 will hit theatres on 25 May.