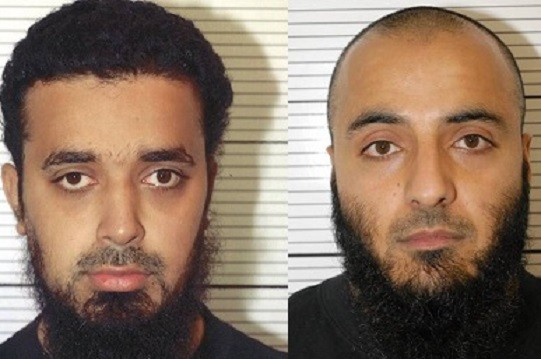 Two men have pleaded guilty to planning "another 9/11" on British soil with a series of suicide bombings across Birmingham.
Bahader Ali and Mohammed Rizwan of Sparkbrook, Birmingham, pleaded guilty to preparing acts of terrorism.
Their plea takes the number of men from Birmingham who have pleaded guilty to the plot to 11.
In February, Ali's brother Ashik was one of three people who were found guilty of plotting to detonate eight rucksack bombs to cause "catastrophic" damage and loss of life.
Six other gang members have already pleaded guilty. Sentencing has yet to be handed down.
The men were arrested in one of the largest counter-terrorism operations the UK has ever seen.
During February's trial, prosecutors said a successful attack would have caused deaths of a scale "along the lines of 7/7 or 9/11".
Police ran a huge undercover operation to smash the conspirators. They were arrested after they were recorded in in-depth discussions about the plot.
On the tapes, they were heard joking about how they they would not need to worry about paying back the money they borrowed to fund the plot or the MOTs on their cars as they would be dead.
The gang also raised more than £20,000 to fund the plan by claiming to be collecting for Muslim Aid - before losing it all on the foreign exchange markets.
Bahader Ali also attempted to get a £15,000 loan from a bank by saying he was starting a double-glazing business. Associate Rahim Ahmed lost more than £9,000 of that money by gambling on the stock market.
Despite their seeming ineptness, police believed they were the "real deal" and posed a significant risk.
DI Adam Gough, of the West Midlands Counter Terrorism Unit, said: "They were committed, passionate extremists hellbent on pursuing their intention of killing as many people as they could in coordinated suicide bomb attacks.
"They not only had that intention, they also had the capability, capacity and determination to make it a reality."
Karen Jones, specialist counter-terrorism prosecutor for the Crown Prosecution Service, said: "These men had dangerous aspirations and while the precise targets remained unclear, the potential for damage and loss of life from their plot should not be underestimated.
"The evidence we put to the court showed the defendants discussing with awe and admiration the attacks of 9/11 and 7/7. These terrorists wanted to do something bigger, speaking of how 7/7 had 'gone a bit wrong'.
"Had they not been stopped, the consequences would have been catastrophic."
Rizwan and Ali are due to be sentenced with Irfan Naseer, 31, Irfan Khalid, 27, Ashik Ali, 27, Ishaaq Hussain, 21, Shahid Khan, 21, Naweed Ali, 25, and Khobaib Hussain, 22, Rahin Ahmed, 27, and Mujahid Hussain, 21.