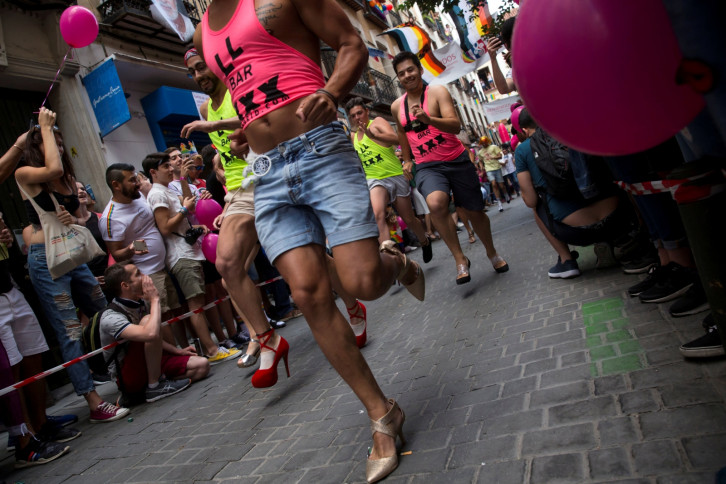 Dozens of men wearing stilettos took part in Madrid's annual high-heel race in WorldPride Madrid on Thursday (29 June).
Madrid is known to host one of the world's largest LGBTQ pride festivals, which also features concerts and other events to celebrate diversity.
One of its most iconic event is the annual High Heel Race, which takes place in the street of Chueca, a gay neighborhood in central Madrid.
On Thursday, competitors in the annual male-only event strapped on dizzying heels, wedges and colourful costumes to make their way through Spain's capital. They were cheered by the crowd clutching pink balloons.
Rules state that the heels must at least be 10 cm (4 inches) high and the shoes are measured before the race. Few men increased the challenge by running for 100 meters or more.
WorldPride Madrid, which began on 23 June and ends on 2 July, is a major festival that coincides with the 40th anniversary of the first LGBT Pride protest in Spain.
Madrid Mayor Manuela Carmena on Wednesday (28 June) reaffirmed her administration's support of LGBT and intersex rights.
During her remarks at the WorldPride reception that took place at Cibeles Palace, she said, "It is necessary that we reaffirm happiness, love, sexuality."
"We want to shout to the world our joy of being different, our celebration of diversity," Spanish director Alejandro Amenabar told the crowd at the launch of the event.
Madrid has hosted a yearly pride march for decades, but this is the city's first WorldPride festival. New York will be the host in 2019.