After setting traps for the art thieves, Patrick Jane is ready to take up another task in the The Mentalist Season 6, Episode 17 'Silver Wings of Time'.
In the last episode 'Violet,' Jane and his colleagues plan a sting operation to nab a notorious group of art thieves. But at the end, things turn ugly and the squad members are seen risking their lives while dealing with the dangerous group.
Meanwhile, beautiful Teresa Lisbon is seen flirting with the new FBI agent Marcus from the art squad (a bit of heart-ache for Jane and Lisbon fans).
However, fans must have enjoyed the cute moment when a radiant Lisbon in her red cute pajamas come downstairs to wrap a blanket on Jane.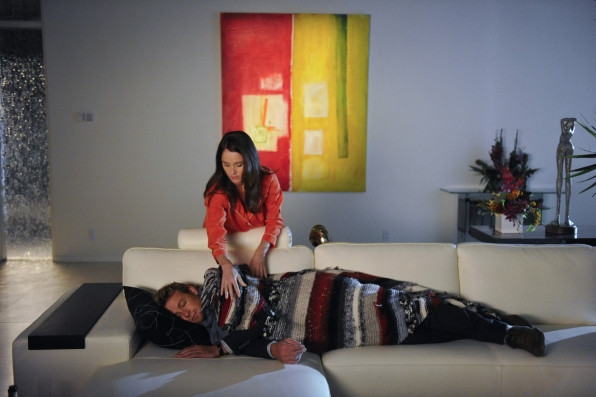 During the mission, the 'no formality guy' Marcus asks Lisbon for a romantic date.
Meanwhile, it's time for Jane to shake up and come out from his dark past or soon he might let go the love of his life, Lisbon, whom he cares for a lot.
Moving over, there is some exciting journey ahead for Jane, who was assigned by the FBI to solve a case in order to save a man from execution.
In an official spoiler synopsis released by CBS, Patrick Jane will have only two days to save an innocent man who is on death row in the episode 'Silver Wings Of Time', entertainment news website ontheflix.com reported.
Jane's clock-ticking voyage through the next 48 hours for saving the death row inmate by uncovering the dark secrets behind the gruesome crime seems to be a thrilling package of entertainment for The Mentalist fans.
Will Jane be able to solve the case by running against time and can he offer the silver wings of freedom to the soon-to-be executed man?
Viewers can also expect a little flirty drama between Lisbon and Marcus in the upcoming episode.
The Season 6, Episode 17 will be directed by James Hayman and the writers are Tom Szentgyorgyi and Rebecca Cutter. Shannon McClung (Agent Collins), Jud Tylor (Mae Feinberg), John De Lancie (Edward Feinberg) and Oscar Torre (Luis Cruz) will be the guest stars for the same.
The Mentalist Season 6, 'Silver Wings Of Time' will be aired on Sunday 9 pm on 13 April on CBS.