Meral Kurum: Turkish Prisons Hell on Earth for Kurds [BLOG]
Kurdish political prisoner Meral Kurum was sentenced without evidence and shares her cell with her three-year-old son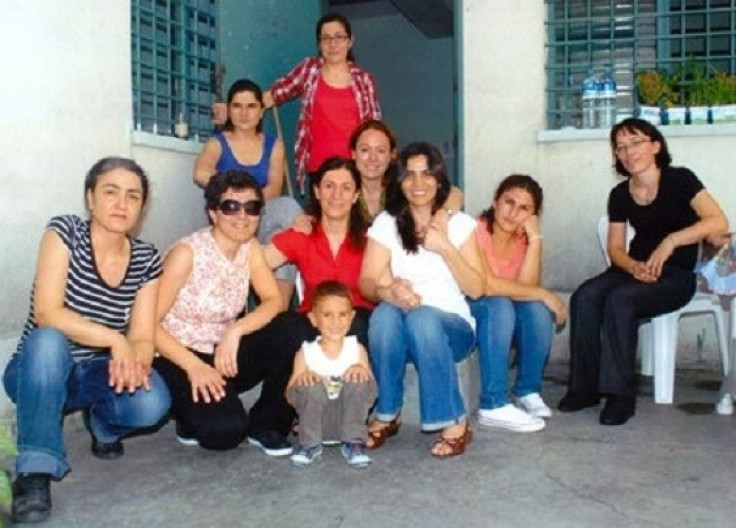 Working as the chairperson of a legal political party, demanding basic human rights and trying to be a conscientious individual would not be reasons for arrest in most parts of the world. But if you are born a Kurd in Turkey, it is very likely that just one of those three reasons is enough to get you arrested and jailed for months, if not years. You could even consider yourself lucky that you have not been killed.
Meral Kurum, the ex-chairperson of the banned Democratic Society Party (DTP) of the Gebze district of Izmit, has been jailed for 11 years with no valid evidence against her. Renas, her three-year-old son, thinks that she works there. The game he plays is "pacing up and down the prison yard". His toys are the washtub and a mop handle.
The corrupt judicial system in Turkey ruins the lives of not only women, but also of children. The lives of Kurum and her son have been revealed by Zeynep Kuray, who has been held in the same prison since December.
Kuray, who interviewed Kurum in Bakirkoy women's prison, is one of 70 jailed correspondents across Turkey, according to the Platform for Solidarity with Imprisoned Journalists (TGDP).
While Kurum was chairperson of the DTP district in 2007, she was accused, along with four party administrators, of instructing six men in "armed action".
She was released because of a lack of evidence. But then her case was reopened in another criminal court and her life was turned upside down.
Injustice against identity
One year after her son was born, she was sentenced to 11 years for being a member of the PKK. The court of appeal reaffirmed the ruling and she was jailed in February 2012. It was the beginning of an unending torture for her.
"What I and my son have been put though is a proof of the injustice in this country and this injustice is committed against my identity," she said.
She and other women prisoners have done their best to make Renas believe that the prison is his mother's office. It is a situation reminiscent of Roberto Benigni's movie Life is Beautiful in which a Jewish father makes countless sacrifices to protect his son in a Nazi death camp.
Listen to the story of Meral Kurum through her own words as recorded by Kuray when she talks of her reaction when the second court overturned the verdict of the first: "I had to hide and run away with my child constantly [but] I decided to be patient as it had been an unlawful trial and punishment so I believed that the court of appeal would reverse the judgment.
"I stayed at friends' houses with my son. It was under those conditions that Renas started to take his first steps. One year later, the 9th penal chamber of the court of appeal became a part of the unlawful trial and approved my punishment. I would have been able to handle everything if I had been on my own but my son also had to go though the same process with me.
"He lived under isolation, away from his peers, until he was two and a half years old. He couldn't even go to the park. He felt that fear at such a young age. He cried when he saw a child. He suffered a severe trauma even if he could not make any sense out of it."
Kurum was kept in the non-political prisoners ward because there was no segregated area for political prisoners at Edirne prison where she was first held. Other prisoners beat her up because she spoke Kurdish, she said.
Dehumanising conditions
"What I went through there is another trauma," she said. "I was attacked by prisoners because of my identity.
"The physical conditions of the prison were just indescribable. I witnessed situations that were totally dehumanising. I and my friend [who had been tried alongside her] were lynched as a result of the provocation of the prison administration."
They wanted to lodge an official complaint about the beatings and their general treatment with the authorities but were warned not to, she said.
"The only thing I was thinking about was the fact that I wouldn't be able to see my son again.
"Two days later, they sent us to two different prisons while we were still injured. For a while, I waited for my wounds to heal before my son started living with me in prison. Then, my son came. Now he lives for 15 days with me and for 15 days with his father. Renas is a loving child but he has lived under very different conditions since the day he was born. He is beginning to comprehend it now.
"Crayons and toys are needed for a child's development but nothing is allowed in the prison. Renas does not want to go to the nursery as he is scared of the warders. He can't get on well with children as he is with us all the time. His problems increase as he grows up but I can't respond to him most of the time.
"The prison offers nothing for children so he tries to make toys out of washtubs and mop handles. He is trying to overcome the challenges in his own way. When he is frisked, he says that soldiers have smoothed his clothes. He invites us to play the game of pacing up and down in the prison yard and seeing the visitors. He disguises himself as a cartoon hero inside dustbins."
The Democratic Society Party was the seventh legal pro-Kurdish political party closed down by the constitutional court over 20 years.
Kurdish defendants are not given a fair trial as presribed in the Geneva Convention and the International Covenant on Civil and Political Rights. Turkey seems to regard itself as exempt from the rule of international law.
"The degree of civilization in a society can be judged by entering its prisons," Fyodor Dostoevsky said. The unlawful conditions of prosecution, imprisonment, medical neglect and other violations of human rights inflicted on Kurdish prisoners give us a very shameful picture of the degree of civilization in Turkey.
And without recognising all human rights for Kurds, including their full right to self-determination, it will not be possible for the Turkish state to take serious steps to enhance that degree.
Uzay Bulut is a freelance journalist based in Ankara
© Copyright IBTimes 2023. All rights reserved.