Mercedes contradict Lewis Hamilton over new F1 rules after explaining Australian Grand Prix problems
Sebastian Vettel's victory in Melbourne blamed on pit-stop error by Silver Arrows' chief strategist.
Mercedes have disputed Lewis Hamilton's claim the new Formula One rules will impact on the entertainment of the 2017 season but admit that a strategic error denied them victory at the Australian Grand Prix. The Briton blamed the new regulations on his failure to put pressure on Sebastian Vettel in the closing laps in Melbourne, prior to the Ferrari driver going on to claim victory in the opening race of the campaign.
The constructors' champions from the past three seasons have attributed Vettel's first F1 victory for 18 months on the timing of their only pit-stop at the Albert Park circuit. Hamilton came in on lap 17 but Red Bull's decision to keep Max Verstappen out on track meant the three-time world champion got caught behind Dutchman when he resumed racing.
Vettel was then able to open up a big enough lead to ensure that when he returned to the track after his pit stop he was ahead of Hamilton, a position from which he was able to open up a 10-second advantage and cruise to victory. The Silver Arrows chief strategist James Vowles said the team gambled on a number of scenarios which failed to come off Down Under.
"If we stop, we knew we were going to drop behind Kimi [Raikkonen] and Verstappen, but if we're suffering degradation, they should start to see a little bit as well at that point in time," said Vowles on a Youtube video published by the team. "We're not going to be likely to overtake in all likelihood against these cars, but there's an interesting circumstance that appears – if we stop, Verstappen has an opportunity to beat Kimi into P4.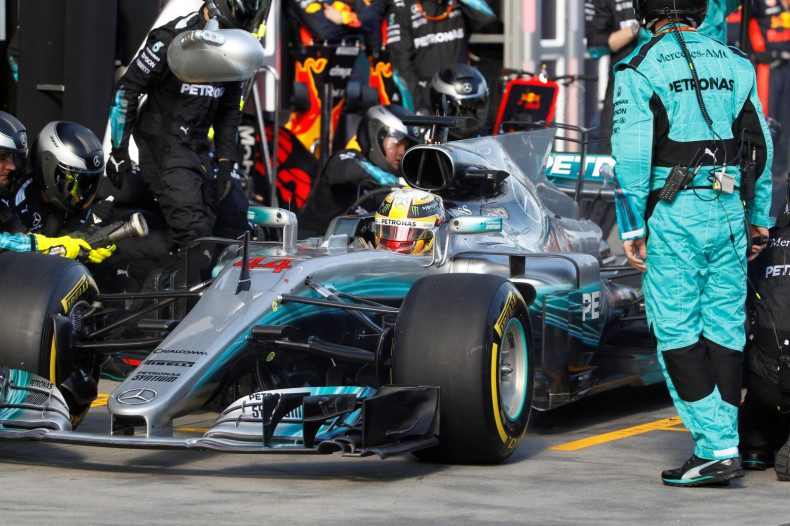 "The reason why? Ferrari have to keep Kimi out which means if Verstappen stops, and there's a little gap behind him around about lap 20 appearing, that gives us free air to push up to the back of Kimi and maybe that will create the circumstance we need in order to win this race.
"So a very difficult decision and in the end I decided to go for it. I believe Verstappen would stop, and he didn't in the end, and you saw what happened: 0.6 seconds, that was all that separated us and Vettel coming out of the pits. If Verstappen had stopped just one lap before we would have won that race."
A string of changes to the aesthetics of the cars on the grid, which has seen them widen and tyres become more sophisticated may have seen an increase in speed but overtakes were limited to just 14. Hamilton insisted prior to the opening race that overtaking might be limited due to the new regulations, and insisted he was hindered by the rules when pursuing Vettel late on.
But Vowles has been impressed by the impact the new directives have had, and believes exciting racing will take place at the upcoming weeks in Shanghai on 9 April and then Bahrain on 16 April. "I think the rules have been a huge success," he added.
"The cars are harder to drive, they're much faster. We're seeing really fast lap times not just in races but also in qualifying. For us as a team things are different to last year. You have to re-learn the car, re-learn the tyres. You're never quite sure where you are.
"We only had 14 overtakes, three with DRS. But that is Melbourne, there are never a lot. I wouldn't use that as a baseline for what is going to happen this year. I'm confident that in Shanghai and Bahrain we will see overtaking and some spectacular moves and some proper racing."