Mercedes' Lewis Hamilton is the obvious pre-season Formula One world drivers' championship favourite, according to Ferrari's Sebastian Vettel. The Silver Arrows have won the individual and constructors' titles in each of the last three seasons and are expected to dominate again despite a significant change in regulations.
Pre-season testing in Barcelona saw Ferrari play catch-up with Mercedes, finishing the sessions as the fastest car on each of the four tyre compounds – a strong statement of intent ahead of the opening race of the season at the Australian Grand Prix in Melbourne. Hamilton has attempted to pile pressure on Vettel and team-mate Kimi Raikkonen by billing the Italian team as the team to beat but the four-time world champion has other ideas.
"I think he must be," Vettel said of Hamilton's status as the front-runner for the championship. "Mercedes obviously has been in very, very strong form the last three years and even though we changed the regulations, if a team is strong then they will build a strong car the year after, no matter what you do with the rules. I think it's very clear who is the favourite.
"For all of us sitting here, we are trying our best to catch-up. How much we have succeeded, we will see and, as the season goes on, I'm sure the cars will have big progression and all the teams will bring lots of stuff to develop the cars. So, whoever's in a good place in the beginning and still in a good place at the end will have a chance."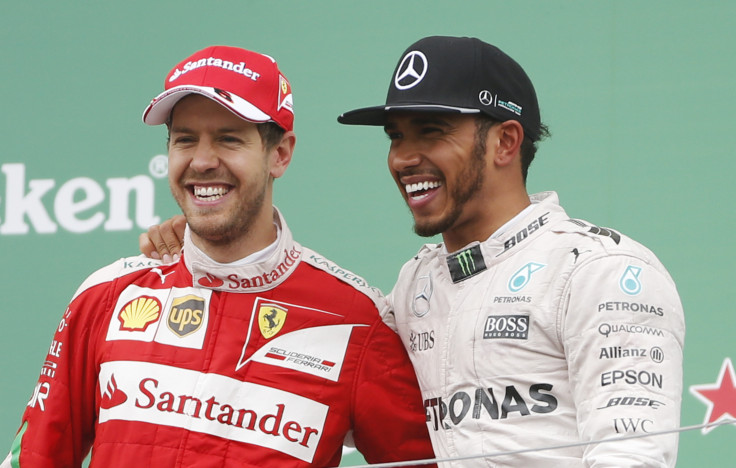 Wider tyres, bigger front and rear wings and larger suspension are among the key alterations to the aesthetics of the cars in 2017. Though such alterations are expected to improve speed overtaking could become more challenging. Vettel is coy over the performance of the new SF70H Ferrari and says no accurate predictions can be made until racing begins Down Under.
"So far we don't know anything. For all of us it will be exciting to find out where we are on Saturday/Sunday, to get a first impression. For us a lot of new things last year didn't really go the way we expected, so I think for this year we have really focused on ourselves.
"I think testing times, I don't think they are that crucial, I think it matters much more what you show from here onwards. I think we are a bit in the dark like everyone else, not knowing what other people have done. For ourselves we can be reasonably happy, we did decent mileage, we didn't have any major issues with the car and hopefully we can carry that momentum into the race.
"I think if you are in a fight for the title that's a question for October, November. I think looking at the performance of the cars obviously it was expected to be a big step up and that's how it felt on the track. On competitiveness we are all here to find out, that's why we go racing I guess."