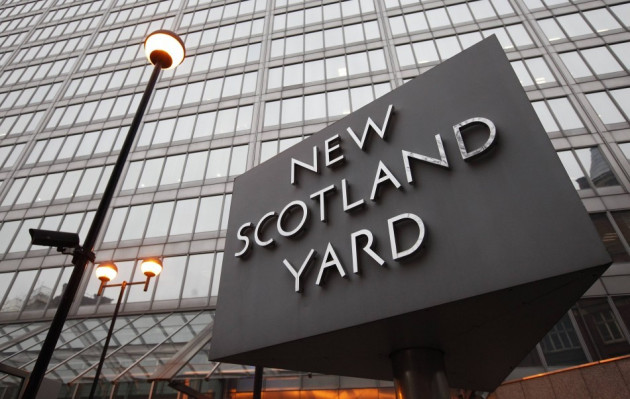 A police officer has appeared before magistrates in London for telling a colleague that black people "look like moneys".
PC Costas Dakoutros said that PC Kevin Hughes, of Brentwood, Essex, made the comments while they were on patrol after seeing three black men standing on the pavement.
Prosecutor Kate Wilkinson told Westminster magistrates court how Hughes turned to Dakoutros and said: "Look at them, they look like f*****g monkeys."
She said: "PC Dakoutros looked shocked and said 'You can't say that'."
Hughes replied: "No, but it's true."
Wilkinson continued: "He began to deliberate that they [black people] were closely related to chimpanzees and then said they were more closely related to Neanderthals."
Another colleague, who was also in the car at the time, is alleged to have heard Hughes say: "Black people hadn't evolved and lived in mud huts in Africa."
Following the shift, Dakoutros wrote an email to himself detailing events, which read: "Kevin looked at three IC3 (black) males and stated they looked like monkeys."
Hughes denied the charge and said he was commenting on the way one man was walking.
Wilkinson said: "[Hughes] said he didn't recall seeing three black males but said he saw someone with a certain gait who walked like a monkey and he had said to PC Dakoutros something about a monkey."
Another PC, David Hair, of Epping, Essex, is also accused of making racist remarks.
Hughes and Hair, who met at police training school and were working in the same unit, are alleged to have mocked Asian culture.
They would call each other "aunty" and "uncle" - terms used in Asian culture for elders. They would use these names with mock accents "as those heard on television comedy series", Wilkinson said.
PC Julia Dacres told the court that when she challenged the pair, she was ignored. She said she did not report the behaviour to senior officers because they were normally present when these phrases were used.
On one occasion, while Dacres was on patrol with Hughes, they approached an Asian man with a strong accent.
Dacres said: "The male said in a very strong accent he was living with his aunty. PC Hughes kept making the male repeat who he was living with over and over again for his own amusement."
In a separate incident, Hair is alleged to have made a racist comment to Dacres, who is black. While on patrol, he asked her if she would be doing overtime, to which she laughed sarcastically and replied yes. Hair then said: "I didn't know if you were going to go into a little rant and say you were going to go home and cook bananas."
Hair admitted to making this remark, but said it was not racist because he "could have named any food", Wilkinson told the court.
Both Hughes and Hair deny using threatening words or behaviour to cause alarm and distress and racially aggravated harassment.
The trial continues.