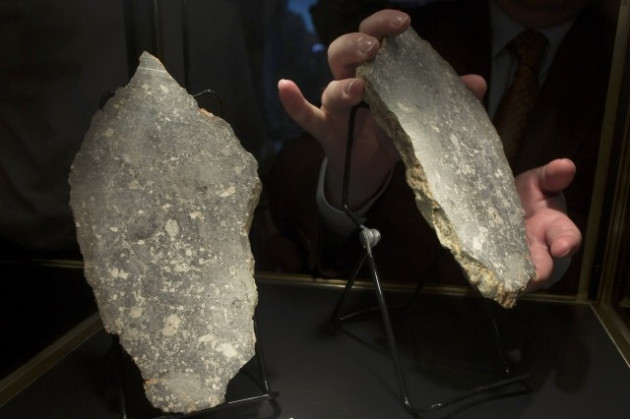 In the largest ever event of its kind, an auction of chunks of rocks from the Moon and Mars (as well as meteorites with extraterrestrial gemstones) have been sold for over $1m. The sale, held, at the Ukrainian Institute of America, in New York City, included 125+ select meteorites. The auction was conducted by Heritage Auctions.
A 1.8kg rock from the Moon - Dar Al Gani 1058 - the largest piece of the Moon to ever be auctioned - was the highlight of the weekend's proceedings and sold for $330,000 (approximately £205,000), according to a Reuters report. The rock is the fourth largest piece of the Moon to now be privately owned.
"This Moon rock is worthy of the finest natural history museums in the world," Darryl Pitt, a meteorite consultant for Heritage Auctions, said in a pre-auction release, "Only 61.2kg of the Moon is available to the public and this is a superlative example of some of what is perhaps the rarest naturally occurring substance on Earth."
A meteorite called Peekskill Fireball, which was famously caught on video 20 years ago, as it burnt through the sky before smashing into a Chevy Malibu just about 80km outside of Manhattan, sold for $16,250 (approx. £10,000), up from an estimate of $14,000 (approx. £8,000).
A portion of a meteorite from the British Museum of Natural History provenance was also included in the auction. This particular meteorite fell in 1492 and was later chained up in a church, specifically so it couldn't fly back into the sky.
There were a number of other similar lots up for auction, including a naturally sculpted iron meteorite found in the Kalahari Desert in southern Africa and a large fragment of the Martian meteorite Tissint, which fell last year in Morocco. The estimates for these two were $175,000 (approx. £109,000) and $230,000 (approx. £143,000) respectively. Unfortunately, like a number of other pieces, it failed to live up to its billing.
Meanwhile, the proceeds from the auction will go, in its entirety, to the Monk Institute (named for Thelonious Monk, an American jazz musician), a non-profit music education-oriented organisation working towards nurturing musical excellence.