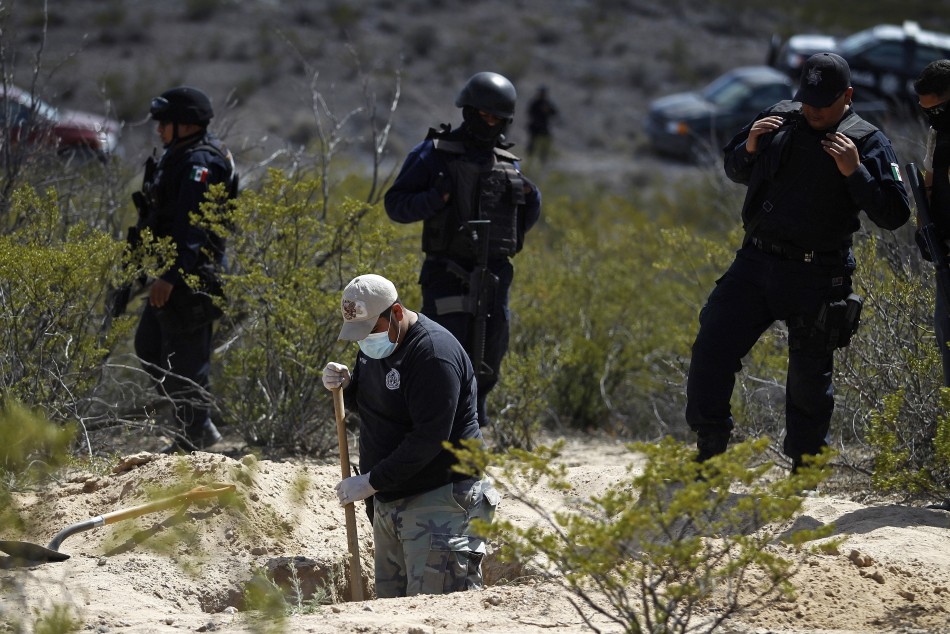 Investigators in Mexico have unearthed 32 bodies and 9 heads from hidden graves in the southern state of Guerrero between 22 and 24 November. The bodies were recovered from 17 pits in Pochahuixco village, part of Zitala municipality, which is plagued by violence due to fighting between drug cartels.
Roberto Alvarez, Guerrero state security spokesperson said that "the discoveries are terrible". The bodies recovered included 31 men and one woman. In a statement, Alvarez said that the remains were taken to state capital Chilpancingo and so far no arrests have been made. However, soldiers are still searching for clandestine graves.
According to AFP, it is a regular practice for drug cartels in Mexico to bury their victims in hidden graves across the country and officials frequently find human remains. In late 2013 and early 2014, at least 75 bodies were exhumed from 37 hidden graves at the border between the western states of Jalisco and Michoacan.
Guerrero state is one of Mexico's most violent states and allegedly one of the main opium growers, where drug gangs such as Guerreros Unidos and Los Rojos continue to engage in brutal fights to take control of criminal operations.
Further, reports said that around 24 people were killed in the state between 19 and 20 November. The bodies of nine men, five of whom were dismembered, were found on a roadside. A dozen others were kidnapped in another part of the state last week.
The state is also known for the disappearance of 43 students in September 2014 from the city of Iguala, a case that attracted international attention.