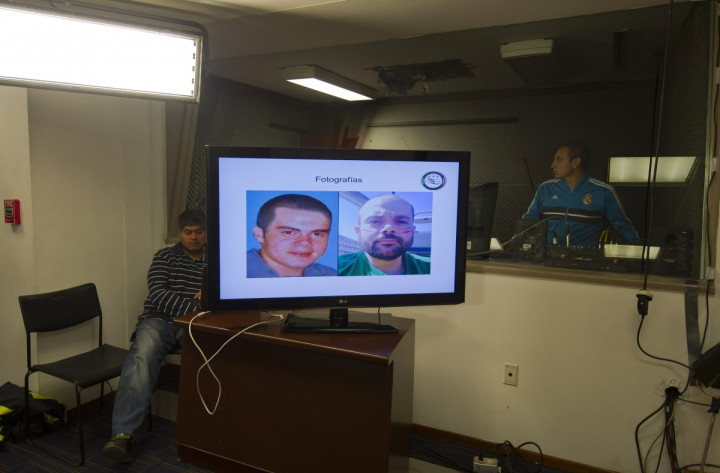 A fugitive Mexican drug lord was betrayed by his passion for football as he was surprised by police while watching the World Cup at a restaurant.
Fernando Sanchez Arellano, the leader of the once-mighty Arellano Felix drug cartel which inspired the Hollywood movie Traffic, was detained in the border city of Tijuana earlier this week.
The 42-year-old boss, known as 'The Engineer', was totally absorbed watching Mexico playing the last match of the group stage against Croatia, when security forces walked onto the premises and arrested him.
Arellano was depicted wearing Mexico's classic green football jersey with white, green and red stripes painted on his face, in photos released by police.
Federal police chief Monte Alejandro Rubido said the mobster had $100,000 in cash at the time of arrest.
The government had offered a 30 million peso (£1.4m) reward for information leading to his capture, after he took the reins of the cartel from his uncle, Javier Arellano Felix, in 2006.
In 2013 the US Drug Enforcement Administration (DEA) listed him as one of the six most dangerous criminals operating in the Tijuana area.
Founded in the 1980s by Arellano's other uncle, Benjamin Arellano Felix, the cartel controlled much of the drug traffic from Tijuana to the US throughout the 1990s.
According to the DEA, for more than a decade it flooded the US with tons of cocaine, heroin, marijuana and methamphetamine.
When Benjamin was arrested in 2002, his brother Javier became the leader of gang. However he himself was arrested a few years later by the US Coast Guard in international waters off Mexico's Baja California.
The two siblings were said to have inspired the Obregón brothers portrayed in Traffic, Steven Soderbergh's 2000 crime drama starring Benicio Del Toro, Michael Douglas and Catherine Zeta-Jones.
In recent years, the clan's power has weakened as a consequence of the brothers' arrests and a bloody turf war. Much of the Arellano Felix gang's illicit business has allegedly been taken over by the Sinaloa cartel.
In 2013, assistant DEA special agent Gary Hill said that 'The Engineer' was "almost like a ghost."
Police officials said he was arrested as World Cup match was still ongoing and he couldn't celebrate Mexico's 3 -1 victory over Croatia which took the national team into the knockout stage.