Two people were killed after a fuel truck exploded next to a maternity and children's hospital in Mexico City.
Mexico City mayor Angel Mancera confirmed that one woman and a child died in the accident outside the hospital in the Cuajimalpa borough.
32 adults and 22 children have also been injured, with many of them hit by flying glass as part of the hospital was destroyed in the blast.
"We have to conduct an evacuation for safety because a lot of the people are babies in the crib area," Mr Mancera said.
A rescue operation is still underway as rescuers search through rubble to find anyone trapped by the explosion.
Around 100 patients were in the building at the time of the blast. Staff transferred the patients to nearby hospitals.
It's believed the blast was caused by a leak in the hose carrying gas from the truck to the hospital.
"There was a super explosion and everything caught on fire," said Ismael Garcia, 27, who lives a block from the hospital. "Fortunately, we were able to get eight babies out," he added.
A column of smoke billowed over the area in the west of the city as fire-fighters tried to extinguish the flames.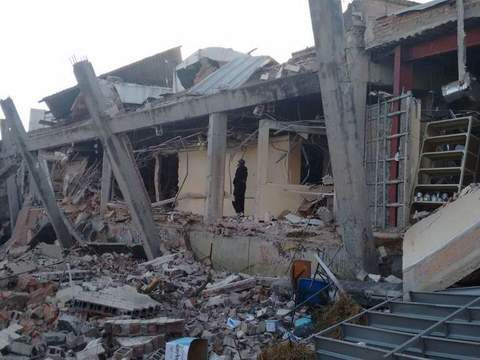 It's not the first time that Mexico has been hit by a gas explosion tragedy.
Twenty-five people died in May 2013 when a gas tanker's container came loose on a motorway north of Mexico City, setting nearby homes and cars on fire.
Three people died last year in the north-eastern state of Tamaulipas when a gas leak caused an explosion in a shopping centre.